Tigers Top Yellow Jackets for 28th Straight Home Win
December 22, 2008
December 22, 2008, Greencastle, Ind. — Katie Mathews (pictured left) scored a career-high 22 points and Danielle Boraz (below right) snagged a career-best 15 rebounds as DePauw improved to 6-3 with a 74-63 win over Baldwin-Wallace. The Yellow Jackets dropped to 4-5 with the loss.
The Tigers never trailed on the way to their 28th straight win at the Neal Fieldhouse and 45th consecutive home regular season win, but they had to fend off some Baldwin-Wallace second-half runs.
DePauw scored 10 straight midway through the first half to take a 27-12 lead which it stretched to as many as 24 before the Yellow Jackets scored five straight in the final minute of the opening half to close the gap to 38-19 at the break.
Baldwin-Wallace scored the opening four of the second half to close to within 15 before the Tigers eventually extended it back to 20 at 65-45 with 8:36 left on Katie Aldrich's layup.
Amanda Schroeder's three-point play followed by Jessica Butzer's three-point field goal and Rachael Quiring's two free throws closed the margin to 65-53 with 6:09 left. The Yellow Jackets trimmed the lead to 10 at 71-61 with 1:36 left before Cassie Pruzin knocked down a three with the shot clock winding down to seal the win.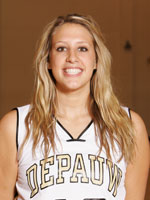 Mathews was DePauw's lone double-figure scorer with her 22 as she hit 8-of-14 field goals and all six of her charity tosses. Seven of Boraz's 15 boards came on the offensive glass as the Tigers held a 44-25 rebound advantage. Emily Marshall added eight rebounds and Pruzin dished out six assists and totaled three steals.
Schroeder led Baldwin-Wallace with 20 with Butzer chipping in 11. Serena Farage grabbed six rebounds and Schroeder had two assists.
The Tigers shot just 37 percent from the floor to the Yellow Jackets' 41.8 percent which included 55 percent in the second half, but DePauw knocked in 32-of-38 free throws.
DePauw returns to action on Sunday, December 28, when it hosts Spalding in the second game of the Amy Hasbrook Memorial Classic. Tipoff is set for 7 p.m. with Centre and Trine squaring off at 5 p.m.
NOTE: Howard Smith and Ryan Powell of the NCAA's Double-A Zone covered the game on the final day of their four-day, 11-game Indiana basketball extravaganza. Photos and video from the Lilly Center are available on the day four link.
Back