American Heart Association Honors Nobel Laureate Ferid Murad '58
December 23, 2008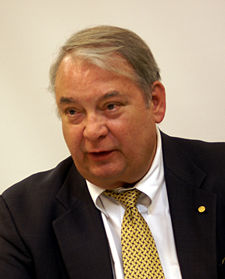 December 23, 2008, Greencastle, Ind. — Ferid Murad, M.D., Ph.D., Nobel laureate and 1958 graduate of DePauw University, has been named one of 13 distinguished scientists for 2008 by the American Heart Association. Dr. Murad, director emeritus of The Brown Foundation Institute of Molecular Medicine for the Prevention of Human Diseases (IMM) at the University of Texas Health Science Center at Houston, was honored at AHA's 2008 Scientific Sessions in New Orleans.
Murad was honored for his work, which has advanced the understanding of cardiovascular disease and stroke. His research "found that nitroglycerin and several related heart drugs induce the formation of nitric oxide and that this gas acts to increase the diameter of blood vessels in the body, according to the American Heart Association." notes an announcement. Dr. Murad shared a Nobel Prize in 1998 for his research on nitric oxide,
including identifying its role in nitroglycerin. (at right: Dr. Murad receiving the University College Dublin Ulysses Medal in 2007)
"Nitric oxide is one of the most important signaling molecules produced within our body," says said Nathan Bryan, Ph.D., assistant professor of molecular medicine at the IMM. "Dr. Murad's contributions to the field have revolutionized the concept of cell signaling by a gaseous molecule. Potential applications are far-reaching across multiple organ systems. Discovery of this pathway has allowed new therapeutic strategies to control blood pressure, correct conditions of endothelial dysfunction and even treat erectile dysfunction."
Read more by clicking here.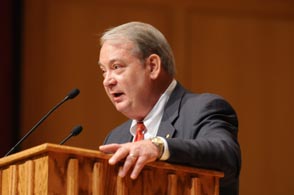 Ferid Murad delivered the golden anniversary address to his Class of 1958 at DePauw's Alumni Celebration on June 14, in which he expressed his concern that the United States "may be starting to lose the race" in science and technology. A brief summary of his remarks and a link to an MP3 file of the complete speech can be found in this story.
This summer, Ferid Murad and his team of researchers announced a breakthrough that may lead to a "magic bullet" treatment for diarrhea, which kills approximately 2 million children in developing countries each year. Details can be found here.
Back