'Open Doors' 2008: DePauw Again Among Nation's Top Colleges for Study Abroad Opportunities
December 23, 2008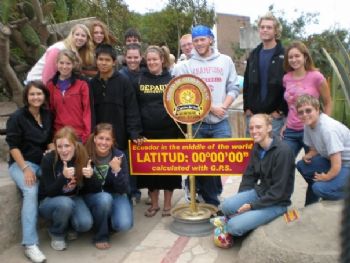 December 23, 2008, Greencastle, Ind. — DePauw University ranks among the top 10 baccalaureate institutions in the nation for the total number of students who studied abroad in 2006-07, according to the 2008 Open Doors report. Published annually by the Institute of International Education with funding from the U.S. Department of State's Bureau of Educational and Cultural Affairs, Open Doors finds that American college students are studying abroad in record numbers, increasing in the latest report by 8% to a total of 241,791.
DePauw ranks #6 among baccalaureate i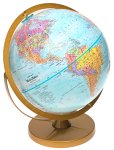 nstitutions with 472 students studying abroad in 2006-07. Calvin College topped the list. (top photo: participants in the 2008 DePauw Summer in Ecuador program)
DePauw has been regularly cited in the annual report (read about Open Doors 2007 here).
"I am immensely gratified to report that we are sending record numbers of American students abroad this year," says Goli Ameri, assistant secretary of state for educational and cultural affairs. "U.S. students recognize that our world is increasingly interdependent, and we at the U.S. Department of State are committed to providing many of them substantive international experiences that increase mutual understanding and provide them with direct knowledge and career relevant skills. Our Fulbright and Gilman program numbers are at all time highs, and hundreds of American students receive National Security Language Initiative scholarships. This year's Open Doors data also reflects the strong and expanding interest of American students for academic exchange in non-traditional locations."
"International experience needs to be a component of every student's education, equipping them for 21st century careers and for global citizenship," adds Allan E. Goodman, president and CEO of the Institute of International Education. His organization "is working with campuses and sponsors to ensure that this experience is increasingly available to all students, including those who previously would not have had the means or the opportunity to go abroad. We appreciate, too, the many faculty members and campus administrators playing key roles in emphasizing study abroad as an institution-wide priority."
The 2008 edition of Open Doors also finds an increase in the range of study abroad destinations: students electing to study in Asia increased by 20%, those going to Africa increased by 19%, and those going to Latin America and the Middle East each increased by 7%. About 36% of students studying abroad do so through semester-long programs, while 55% of U.S. students choose short-term programs (including summer, January term and any program of 2 to 8 weeks during the academic year).
Learn more about the report by clicking here.
DePauw University is among the "Top Producers of Fulbright Awards for U.S. Students, 2008-09" according to a chart published in the October 24 edition of the Chronicle of Higher Education. The publication notes that three 2008 DePauw graduates received Fulbright Awards to study and live abroad for a year, and that 17 students at the University applied for the prestigious grants.
DePauw began this academic year with a record 127 international students, a group that comprises approximately 5% of the University's total student body. Details can be found in this story from August 18.
Back