DePauw Employees Support New Fund for Local Residents in Extreme Need
December 25, 2008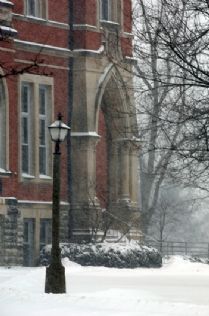 December 25, 2008, Greencastle, Ind. — "The Putnam County Community Foundation recently announced that an anonymous benefactor has asked the foundation to establish a new fund for Putnam County citizens who are coping with extreme adversity," reports Greencastle's Banner-Graphic. "The benefactor will match contributions to the fund, and has not set a limit at this time. A contribution from the employees of DePauw Dining Services was the first contribution received to the new fund and will be matched dollar for dollar by the benefactor."
"This is a fund our community has wanted for a long time," Elaine Peck, executive director of the Putnam County Community Foundation, tells the newspaper. "Over the years, I have received countless calls from people wanting to raise money to help a person or family in need; calls from people wanting to help a family who suffered a tragic accident; calls from people wanting to help someone with a disability; calls from people wanting to help families with their heating bills. Putnam County is a community that supports and gives generously to neighbors in need. The downturn in the economy makes the establishment of this fund very timely."
Access the complete story by clicking here.
Back