Congressional Leaders Must Navigate "Tough Pivot," According to Lee Hamilton '52
December 27, 2008
December 27, 2008, Greencastle, Ind. — "As Congress moves beyond last November's elections and turns its attention to governing, it has to perform one of the toughest pivots in American politics," writes Lee Hamilton, veteran statesman and 1952 graduate of DePauw University, in a newspaper op-ed. "Governing is much more difficult than campaigning. After going at it hammer and tongs in congressional races, Democrats and Republicans now have a branch of government to run and policy to produce. Switching priorities to put the country and the institution of Congress ahead of politics can be a stretch for members."
Hamilton, who served 34 years in the U.S. House of Representatives and co-chaired the Iraq Study Group and 9/11 Commission, believes Congress must become a "representative body more equal in weight to the presidency" and challenges congressional leaders to work toward that.
"They signal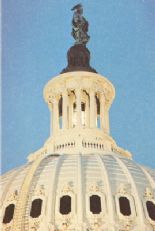 how much weight they'll attach to ethical behavior and tough ethics enforcement, and can make or break legislation designed to further it," the Democrat writes. "They determine whether cooperation across party lines will be the order of the day, a rarity, or out of the question. They decide how the budget is to be put together. Above all, they craft the congressional agenda and determine whether it's going to be used merely to score political points or to respond in good faith to challenges facing our nation. Leaders are the ones in a position to determine which issues will come forward for consideration, and which will be set aside; what oversight will be done and what ignored; what will get the media spotlight and what will remain in the shadows; which programs will be included in appropriations bills and which won't. They have enormous power, in other words, over both the substance and the style of Congress. And they are the ones who largely determine whether Congress will become a stronger partner in our representative democracy or defer to the president to take the lead."
Hamilton notes that the leaders in Congress yield more clout than they have historically. "Leaders of both parties have worked to increase their budgets and concentrate power in their offices. Their staffs have grown -- where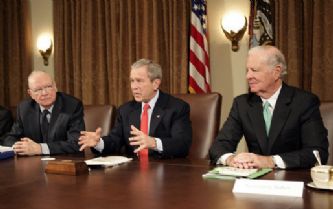 a speaker or minority leader might once have turned for policy advice to the chairs of particular committees, they now have their own advisors on energy or foreign policy or the economy. And they have changed the process, most notably with the budget, to favor themselves. When spending priorities were put together by the various committees, rank-and-file members knew, in detail, what was in the budget and they had significant input into its contents. Now, Congress often acts by omnibus bill, which puts enormous power in the hands of a few leaders and their staff." (above left: Hamilton and Iraq Study Group co-chair James A. Baker III with President Bush)
The former chair of the House Foreign Affairs Committee concludes, "This is not a favorable trend. The increasing concentration of power in the leaders diminishes the role of other members and distorts representative democracy. Congress derives its legitimacy and authority from its members, who represent the American people in all their diversity. This is why the Framers put Congress first in the Constitution.
When that multitude of voices is ignored or weakened, it is hard to see how Congress will ever be able to assert its standing as a separate, independent, and forceful branch of government."
The complete essay can be found at the Web site of Connecticut's Newtown Bee.
Lee H. Hamilton is director of the Woodrow Wilson International Center for Scholars in Washington, D.C. Newsweek has called him "Mr. Integrity," while the New York Times' David Brooks opined of Hamilton, "The country is hungering for leaders like him: open-minded, unassuming centrists who are interested in government more than politics."
In a 2007 interview, Hamilton stated, "I had an undergraduate experience at DePauw University that certainly opened my eyes to a lot of possibilities." Learn more in this story.
Back