J. Nichols '89 Offers Tips on Reducing Our "Plastic Footprint"
December 26, 2008
December 26, 2008, Greencastle, Ind. — "This may be a bad time to ask, being the holiday season and all, but what's your plastic footprint?," asks Wallce J. Nichols in the Statesman Journal of Salem, Oregon. Nichols, a research associate with the California Academy of Sciences and 1989 graduate of DePauw University, offers an op-ed on "disposable plastic stuff your lifestyle generates ... Plastic stuff that you may use for a few seconds or minutes then discard into the bin, sending it off into the world where it lasts essentially forever."
Dr. Nichols describes how he works to use as little plastic as possible and to recycle all he can. "I guard the perimeter of our household against attacks by random plastic toys, styrofoam packaging and bubble wrap. But it still gets in. Then there are the pen caps, doll shoes and unidentified parts and pieces to previously fun playthings. We have a useless stockpile of them in our house, just like yours. The thing is, these same items show up on remote El Salvadorian sea turtle beaches, in the stomachs of dead albatrosses on Midway Island and on river banks around the world. It's the flotsam and jetsam of our modern lives. And there are literally millions of tons of it swirling around out there being eaten by wildlife, breaking into ever smaller pieces and just sinking to the bottom of the ocean."
The researcher who co-founded Ocean Revolution implores readers, "Consider your plastic footprint every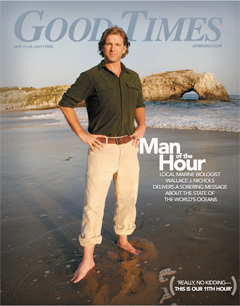 time you touch anything plastic. This isn't about getting completely bummed out or laying a major guilt trip on yourself (maybe just a little one) as the holiday plastic consumption frenzy consumes the world. It's about thinking this problem through and making smart changes to how we live."
His essay includes tips for reducing an individual's "plastic footprint." It concludes, "Ten years from now we'll look back on how big, ugly and smelly our plastic footprints really were, and revel in how small and clean they have become."
Access the complete text at the newspaper's Web site.
Nichols, who goes by his middle initial, is seen in Leonardo DiCaprio's documentary, The 11th Hour and was one of nine "eco-all-stars" cited in the March 2008 issue of Outside magazine. Read more about him in this recent story.
Back