31 DePauw Students Apply for 2009-10 Fulbright Awards
December 29, 2008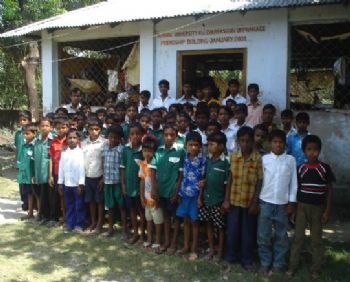 December 29, 2008, Greencastle, Ind. — DePauw University sent 31 completed 2009-10 Fulbright Program for U.S. Students applications to the International Institute of Education (IIE) this year, nearly double the 17 completed applications last year and almost four times the number of applications sent the year before that. About half of the applications are for teaching English in foreign countries, while the other half are research proposals for projects abroad. (at left: a recent photo of children in front of a building that a DePauw student team helped construct at an orphanage in Char Fassion, Bangladesh, in 2001)
The Fulbright Program was established in 1946 by the U.S. Congress and is sponsored by the U.S. Department of State in an effort to increase mutual understanding between Americans and people of other countries.
Students and faculty members agree that the increase results from the visibility of previous success with Fulbright recipients and the growing interest in international experiences at DePauw.

"I think we're seeing the fruits of multiple years of success," David N. Gellman, former Fulbright program adviser and associate professor of history at DePauw, says. "We've gotten better at recruiting and publicizing, and there's no better publicity than past success."
The increase in applications has meant an increase in the need for advisers. Douglas E. Harms, professor of computer science, a former Fulbright recipient and the Fulbright program adviser for DePauw this year, is part of a core committee of faculty and staff members responsible for helping students with their applications. Other members of the committee include Gellman; Marnie K. McInnes, dean of academic life and professor of English and women's studies; Humberto Barreto, former Fulbright recipient and professor of economics; Sharika D. Crawford, former Fulbright recipient and predoctoral scholar of history; Christopher S. Bondy,
assistant professor of sociology; and Nishita Trisal '07, Fulbright recipient and Center for International and Experiential Education staff member. In total, 24 faculty and staff members are directly involved in the Fulbright application and interview process.

The increase in direct faculty involvement in recent years has meant more encouragement for students to apply.

"We have the strong students; we just hadn't been giving them the confidence to apply," Professor McInnes says. "It's a lesson to me how a little bit of encouragement can propel a student to do something out of the ordinary."

Students are also encouraged to apply based on their off-campus study abroad experiences.

Robyn W. Jenkins, a senior Fulbright applicant, says she originally wasn't going to apply for the Fulbright, but changed her mind after she went abroad during spring of her junior year. She says her Scottish Parliamentary Internship in Edinburgh, Scotland, "opened [her] eyes to how far ahead other countries are compared to U.S." in pursuing sustainable energy solutions. Her experience in Scotland encouraged her to apply for a Fulbright to work with the Stockholm Environmental Institute based in Sweden and learn more about sustainable energy policies that can be implemented in the U.S.

Jenkins says of the need for energy: "Right now there's a lot of talk, but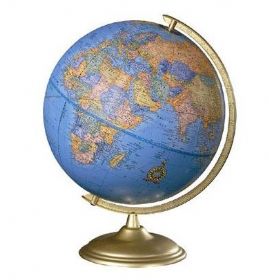 not a lot of action, and there's a lot of work to be done. I'd like to look at that and look at the policy changes and hopefully be able to bring it back to the U.S."

Senior Ann K. Schunicht also wants to explore policy reform for the U.S. with her Fulbright project. She hopes to study at the University of Oslo in Norway at the Institute of Health Management and Health Economics and conduct a sociological study about how Norwegians feel about their healthcare system through small group in-depth interviews and one-on-one interviews with leaders at the institute.

Schunicht says she found inspiration for her Fulbright project from a summer and Winter Term experience she had working with the health advocacy group at FamiliesUSA, a nonprofit organization dedicated to achieving quality, affordable healthcare for all Americans based in Washington D.C. She says her time there and her research of the Norwegian healthcare system led to the main goal of her Fulbright project.

"The point of my project is to determine how the Norwegian system works, so I can come back to the U.S. and after I graduate, be part of healthcare reform here," she says.

Students
also apply for the Fulbright based on their interests of gaining international experience while at DePauw. Professor Gellman says, "Students' interests in continuing their studies internationally started with international experiences and classroom experiences about international subjects while at DePauw."

In addition to both on- and off-campus studies at DePauw, other factors such as family connections and travel experiences influence a student's decision to apply for the Fulbright.

The Core Committee is a part of the movement to connect with students' interest in gaining international experience and furthering their studies. Professor Harms emphasizes that committee members "try to help students prepare the best applications possible" by working closely with students to revise and edit applications.

Gellman emphasizes the importance of learning through the challenging Fulbright application process itself. He says, "Even for those students who don't get Fulbrights, the application process is a very valuable experience. Those who get fellowships and those who don't will all benefit by seizing the opportunity and sitting down and writing about themselves."

McInnes adds: "There's a kind of practical training that goes into writing an application. Students learn how to get recommendation letters, how to be concise and confident, but not boastful. Since the chance of winning is slim, students need to go into this with their eyes open that the process
itself is valuable."

Faculty and staff members who advise students also find value in the process of helping students with their applications. When a student applicant asked Professor Harms why he puts so much effort into the work he does, he replied: "I was a Fulbrighter. I know how good the experience can be. And I think it's worth it for me to put in the time to help our students to have an opportunity for a similar experience."

DePauw University is among the "Top Producers of Fulbright Awards for U.S. Students, 2008-09" according to a chart published in the October 24 edition of the Chronicle of Higher Education. The publication notes that three 2008 DePauw graduates received Fulbright Awards to study and live abroad for a year, and that 17 students at the University applied for the prestigious grants.
For more information about Fulbright opportunities, contact Professor Harms.
DePauw University ranks among the top 10 baccalaureate institutions in the nation for the total number of students who studied abroad in 2006-07, according to the 2008 Open Doors report. Learn more in this recent story.
Back