Tigers Win Fifth Straight with Classic Victory over Trine
December 29, 2008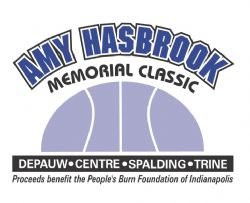 December 29, 2008, Greencastle, Ind. — Cassie Pruzin knocked down four three-pointers including three in the second half and led DePauw to a 64-54 win over Trine in the fourth and final game of the Amy Hasbrook Memorial Classic.
The Tigers improved to 8-3 with their 30th straight home win and 47th consecutive regular season home victory, while Trine dropped to 5-7.
DePauw led by as many as 11 in the first half on the way to a 32-23 advantage at the break. That margin reached as many as 18 in the second half after a 9-1 DePauw run made it 44-26 with 14:27 left.
The lead remained in double digits until the Thunder put together a 10-0 stretch and closed the gap to 54-50 with 5:49 remaining.
Emily Marshall's put back and Brianna Frigerio's layup pushed the margin back to eight and started a 10-1 run which put the game away.
Pruzin led the Tigers with 18 points with Katie Aldrich adding 13 points and a career-high eight rebounds. Andrea Travelstead scored 10 and grabbed nine rebounds as DePauw held a 44-33 edge on the boards. Katie Mathews dished out seven assists in the win. Sarah Howe paced Trine with 23 points, 10 rebounds, five assists and three steals.
DePauw shot just over 40 percent from the floor including 7-of-17 from three-point range. Trine hit 33.9 percent for the game and just 28.6 percent in the first half.
Centre's Chelsea Goodman was named the tournament's most valuable player and was joined on the all-tournament team by teammate Maggie Prewitt, DePauw's Pruzin, Trine's Howe and Spalding's Kristen Pendelton. Centre won today's first game by a 78-62 score.
The Tigers return to action on Sunday, January 4, when they host Centre in a Southern Collegiate Athletic Conference game. Tipoff is set for 3 p.m.
Back