Gaza a "Tiny, Dangerous Place," Karen Koning AbuZayd '63 Tells AP
December 31, 2008
December 31, 2008, Greencastle, Ind. — "Asylum (is) being totally denied to Gaza's population," says Karen Koning AbuZayd, commissioner-general of the United Nations Relief and Works Agency (UNRWA). "They have to stay in this tiny, dangerous place," adds AbuZayd, a 1963 graduate of DePauw University. She is quoted in an Associated Press story detailing the continuing Israeli airstrikes against Hamas targets in the Gaza Strip.
The article notes, "The strikes have killed more than 370 people, including at least 60 civilians, according to a UN tally. Most bombs hit their intended target, but the damage spreads to surrounding areas. Borders with Egypt and Israel have been sealed for the most part since Hamas seized power of Gaza in June last year, confining 1.4 million residents in the coastal territory, 25 miles long and six to nine miles wide ... AbuZayd,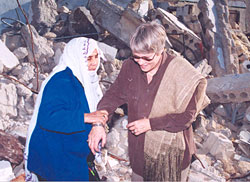 the UN official, said the agency is preparing to turn UN-run schools in Gaza into shelters. Already, 200 residents slept at a UN school close to Gaza's border with Egypt on Sunday after Israel bombed nearby tunnels. She said the UN had informed Israeli officials of their locations and did not expect them to be targeted."
The complete story is available at the Web site of the Jerusalem Times.
Earlier this month, Karen AbuZayd contributed an op-ed to the UK's Guardian. Read more in this previous article.
AbuZayd delivered the commencement address to DePauw's Class of 2007.
Back