Student Musicians to Perform in Austria; Send-Off Concert On Campus Wednesday
January 3, 2009
January 3, 2009, Greencastle, Ind. — The DePauw Chamber Symphony will be traveling to Austria for seven days during this month's Winter Term (January 8 - 15)to take part in the commemoration of the 200th anniversary of the death of classical composer Franz Joseph Haydn (1732-1809). During their travels to Vienna and Salzburg, the Orchestra, conducted by Orcenith Smith, will be accompanied by DePauw faculty members Nicole Brockmann and Maria Chow. Brockmann will perform as viola soloist with the ensemble.
A local audience will have the chance to hear the complete concert repertoire on Wednesday, January 7, at 7:30 p.m. in Kresge Auditorium of the Judson and Joyce Green Center for the Performing Arts. The concert is free and open to public.
Junior violist Kelly Houpt, one of 31 students embarking on the tour, states, "It is a great opportunity to be able to showcase what DePauw has to offer as a music school and to work together in an effort to create music on a more concentrated level. It also gives us a chance to participate in the celebration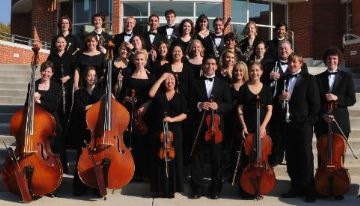 of Haydn's music in a global environment, something that is increasingly important while examining DePauw's place in the world."
The orchestra will begin the tour with a performance at the Esterházy Palace, where Haydn spent nearly 30 years of his life producing many compositions and developing his personal composition style. This performance will be one of the first performances at the Esterházy Palace as part of the 2009 Haydn Celebration Year.
"I am grateful to have the opportunity to travel to Austria and perform in the very place that Haydn wrote so many historical compositions, which remain a part of our musical culture today," says senior violinist Siobhan Lau.
The DePauw Chamber Symphony will also perform in Salzburg's famed Mozarteum, one of the leading music conservatory's of the world. The group's repertoire will consist of a variety of music, including Symphony No. 95 by Haydn, and music by Brahms and Hindemith, as well as American composers Ives, Ellington, and Cowell.

The Chamber Symphony, consisting of select students from the DePauw University Orchestra, was established by Professor Orcenith Smith in 1974 to perform tours during Winter Term, DePauw's January school session in which students focus on a single project whether that be a class, a trip, or an internship. The most recent Western U.S. tour included performances in Denver, Los Angeles, Phoenix, and San Francisco. The Chamber Symphony last toured in Austria in 1983 and 1997, but has also performed in Japan, Canada, England, France, Italy, Spain, the Southeastern U.S., the Midwest, the Northeastern U.S., and at Carnegie Recital Hall and the Kennedy Center.
Visit the DePauw University School of Music online.
Back