Brandon Sanchez '01 Cited in LA Times Story on His Brother, USC's Star QB
January 1, 2009
January 1, 2009, Greencastle, Ind. — A Los Angeles Times feature on Mark Sanchez, the star quarterback for the University of Southern California, notes that he "has two older brothers who played football -- Nick Jr. was a quarterback at Yale; Brandon played on the offensive line for DePauw -- without their heritage becoming a topic." The article, headlined "USC's Mark Sanchez has more than pads on his shoulders," states, "Sanchez is third-generation Mexican American, and in a city that's home to more than 4.6 million Latinos -- three-quarters of whom are Mexican -- that's no minor detail." (at left: Mark Sanchez)
Brandon Sanchez is a member of DePauw University's Class of 2001.
Kevin Baxter's story examines how Mark Sanchez has become a symbol of pride for the Latino community while leading USC to a 13-2 record as the school's starting quarterback, and the stresses that can sometimes accompany such attention.
"Sanchez's father, Nick, an Orange County fire captain and former Army sergeant, was born just after his family, along with hundreds of others of Mexican descent, were driven out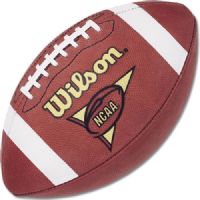 of Chavez Ravine to make room for what became Dodger Stadium," writes Baxter. "For many, that episode planted seeds that a decade later blossomed into a broad-based civil rights campaign known as the Chicano Movement. Though the Sanchezes weren't particularly active politically, Nick says, he tried to prepare Mark for the attention his ethnicity would bring him as quarterback at USC."
Today, "fifth-ranked USC faces Penn State in the 95th Rose Bowl Game, which will be played in a stadium packed with nearly 100,000 fans and before a national television audience of millions," adds the piece.
Read the complete text at the Times' Web site and visit the DePauw football program online.
Back