Obama Campaign Manager David Plouffe Coming February 2 as Ubben Lecturer
January 10, 2009
Also: Jane Pauley to Deliver Ubben Lecture on April 17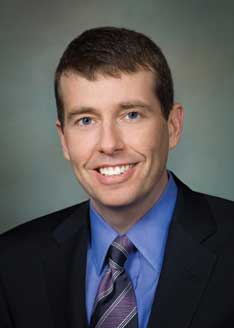 January 10, 2009, Greencastle, Ind. — On the night of his historic election on November 4, 2008, Barack Obama called his campaign manager, David Plouffe, "the unsung hero of this campaign, who built the . . . best political campaign, I think, in the history of the United States of America." On February 2 -- thirteen days after the inauguration of President Obama -- Plouffe will come to the campus of DePauw University to discuss "Leadership Lessons from a Presidential Campaign Manager" as part of the Timothy and Sharon Ubben Lecture Series. The program begins at 7:30 p.m. in Kresge Auditorium of DePauw's Green Center for the Performing Arts (605 S. College Avenue). Like all Ubben Lectures, the speech is free and open to the public.
This month, Politico.com named Plouffe one of the "top 10 political newcomers of 2008."
"Plouffe ran as near a perfect political campaign as I have ever seen," wrote author and political commentator Chris Weigand at the Huffington Post.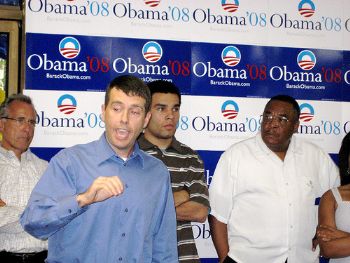 He added, "And this was his first national campaign."
The New Republic credited Plouffe for Obama's success in the Iowa caucus and for crafting an overall strategy to prolong the primary past Super Tuesday. The Chicago Tribune declared, "Plouffe was the mastermind behind a winning strategy that looked well past Super Tuesday's contests on Feb. 5 and placed value on large and small states." Plouffe also maintained discipline over communications in the campaign, including controlling leaks and releasing information about the campaign on its terms.
David Plouffe (pronounced "Pluff") began his political career when he went to work for Senator Tom Harkin's 1990 re-election campaign. He later worked as a state field director for Harkin's unsuccessful 1992 presidential campaign. In the same year, he successfully managed Congressman John Olver's first re-election bid in western Massachusetts. In 1994, Plouffe managed Delaware Attorney General Charles M. Oberly's unsuccessful campaign against Senator William V. Roth. Plouffe then worked as campaign director for the Democratic Senatorial Campaign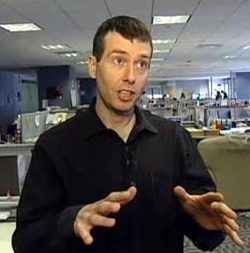 Committee in 1995. In 1996, Plouffe managed Bob Torricelli's successful campaign to fill Bill Bradley's New Jersey seat in the United States Senate.
From 1997 to 1998, Plouffe served as Democratic leader Dick Gephardt's Deputy Chief of Staff. From 1999 to 2000, as executive director of the Democratic Congressional Campaign Committee, Plouffe led a national campaign that raised a record $95 million for House races across the country.
In the winter of 2000, Plouffe joined AKP&D Message and Media, but left briefly to serve as a strategist for Gephardt's unsuccessful Presidential bid. He returned to the firm and became a partner in February 2004. Beginning in 2003, Plouffe and fellow AKP&D partner David Axelrod worked on Barack Obama's 2004 Illinois Senate campaign, beginning Plouffe's association with Obama. Plouffe worked with Axelrod on Deval Patrick's successful 2006 campaign for Governor of Massachusetts.
"Obama's campaign manager, David Plouffe, and chief strategist, David Axelrod, conceived and executed the Obama electoral strategy with a supersonic hum and a minimum of bared ego," notes an article in the February 2009 issue of Vanity Fair.
"As for Plouffe's public profile, in a campaign inner circle marked by facelessness, no senior aide makes a greater point of avoiding public view than he does," the Los Angeles Times' Peter Nicholas wrote in July 2008. "Yet he has a hand in virtually every aspect of Obama's world: field organization, advertising and fundraising, including the delicate task of drawing erstwhile Clinton supporters into the fold."
A July article in Rolling Stone magazine began, "On the June evening in St. Paul when he captured the Democratic nomination, in between shout-outs to his daughters and his grandmother, Barack Obama paid tribute to a political operative most Americans have never heard of. 'Thank you to our campaign manager, David Plouffe,' Obama said, 'who never gets any credit but has built the best political organization in the country.' Obama isn't exactly known for understatement. But in describing the machine that Plouffe and his political team have built, the candidate was actually far too modest. By marrying online technology to grass-roots activism, Obama's brain trust mobilized 1.5 million donors, raised more than $250 million, derailed the Clinton juggernaut and built something new in Democratic politics."
Plouffe is currently writing a book about his campaign experiences, titled The Audacity to Win, which he says will focus on tactics and contain little, if any, gossip. "Hopefully, there will be some lessons on how to put together a three-quarters of a billion dollar operation," he told the Associated Press last month when his book deal was announced. "I don't have a huge interest in scoring points, but there was a difference in strategy and approach," Plouffe added.
In a post-election interview with Condé Nast Portfolio, Plouffe offered, "You know we started really in January of '07. Here's why. We had a lot of great staff who gravitated to us, who were inspired to work for him, weren't in it for their
own reasons, and so we were very quickly able to attract a great staff. From the very beginning it was clear there was going to be a pretty strong grassroots appeal, although no one could've predicted it would grow as large as it did. We had some assets, but it was a challenge. Listen, it was brutal to try to get this up and running in a matter of weeks. We had to find office space, we had to get accounts up and running, we had to raise some initial seed money, we had to get staff hired in all the states. And, again, almost anybody who runs for president spends years planning for this, right? So you kind of turn the key and you have a plan, and we didn't have a plan. As challenging as it was, I think in retrospect it made us a better campaign, because we didn't have some stale playbook we were following. We were kind of making it up as we were going along, but I think in a very effective way, because the electorate changes and technology and techniques change so we weren't wedded to any of the old ways of doing things."
The Ubben Lecture Series was created in 1986 by a gift by Timothy and Sharon Williams Ubben, both 1958 graduates of DePauw. Designed to "bring the world to Greencastle," it brought humanitarian Greg Mortenson, author of Three Cups of Tea: One Man's Mission to Promote Peace ... One School at a Time, to campus November 13, and will welcome veteran journalist Jane Pauley on April 17.
Over the past 23 years, other Ubben Lecturers have included: Tony Blair, Margaret Thatcher, Elie Wiesel, Mikhail Gorbachev, Benazir Bhutto, Gen. Colin Powell,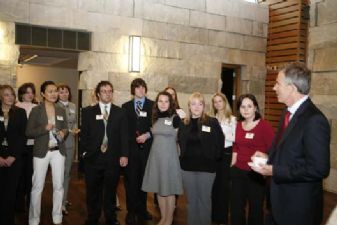 Shimon Peres, William Bennett, John Major, Andrew Young, Paul Volcker, Naomi Wolf, General Wesley Clark, ice cream entrepreneurs Ben & Jerry, Barbara Bush, E.O. Wilson, Robert Gates, Elie Wiesel, Ross Perot, L. Paul Bremer, Ralph Nader, Eric Schlosser, Zbigniew Brzezinski, Willy Brandt, Jesse Jackson, Spike Lee, Mike Krzyzewski, Doris Kearns Goodwin, Peyton Manning, Hotel Rwanda's Paul Rusesabagina, PostSecret founder Frank Warren, David S. Broder, Richard Lugar, Brian Mulroney, Liz Murray, Mitch Albom, Lynne Cheney and Harry Belafonte. (at right: Tony Blair visits with DePauw students at the Janet Prindle Institute for Ethics, March 3, 2008)
To view a complete roster of Ubben Lecturers, which includes links to video clips and news stories, click here.
A video retrospective of the Ubben Lecture Series -- produced by DePauw students -- was premiered in June 2008 over Alumni Reunion Weekend. Read about the project, and view the piece, via this article.
Back