Retiring Community Foundation Leader Deedee Daniel '71 Named a 'Sagamore of the Wabash'
January 2, 2009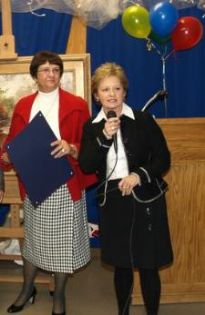 January 2, 2009, Greencastle, Ind. — "It's time to go play with my grandchildren, travel, and take care of 14 years of unfinished projects," Delynn "Deedee" (Keller) Daniel tells Indiana's Hendricks County Flyer. Daniel, who received a master's degree in education from DePauw in 1971, retired at the end of the year as executive director of Indiana's Hendricks County Community Foundation.
At a party celebrating her service to the community, Daniel was made a Sagamore of the Wabash, the highest award that can be granted by the Governor of Indiana. (photo at top left shows Daniel receiving the award from Indiana State Senator Connie Lawson.
"When Deedee Daniel started as the first executive director of the Hendricks County Community Foundation, the organization had about $1,500 worth of grants to reward," write Wade Coggeshall and Charlee Beasor. "Now, 14 years later, the Community Foundation has $7 million in assets with 170 permanent funds. This year it awarded almost $250,000 during the first half of the year in the form of grants to charities and scholarships to students. To date,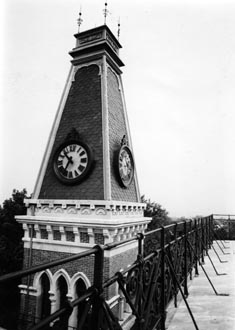 they've given out more than $5.8 million in Hendricks County."
Daniel tells the newspaper, "Our donors have really been able to make a difference in the community over the last 14 years. We've come a long way because the people of Hendricks County have embraced the idea of meeting local needs, and without them the thing would have never flown."
Her retirement plans include traveling to Texas to see a "real rodeo." Daniel says she was overwhelmed by the reaction she received as she neared her final work day, especially being named a Sagamore of the Wabash. "I just was so honored, and everything that happened, I just got more speechless. I just appreciate all the cards and kind words and phone calls ... people have just been more than generous and I just appreciate it more than anybody knows."
Access the story at the Flyer's Web site.
Back