President Casey Outlines Effects of Nation's Economic Crisis in Letter to the DePauw Community
December 11, 2008
Also: Access President Casey's Letter
December 11, 2008, Greencastle, Ind. — "It is clear from conversations I have had with many students, parents, alumni, faculty, and staff that the nation's economic uncertainties have them curious and concerned about DePauw's own financial status," says President Brian W. Casey. In a message distributed to campus constituents today, the president provides an update on the University's response to America's deepest fiscal crisis since the Great Depression.
"I am writing today to let you know that the financial crisis has indeed adversely affected the University's endowment and has placed significant pressure on our operating budget," Dr. Casey reports. "But I also wish to assure you that we are committed to maintaining the unique and excellent educational experience that we know and expect at DePauw University."
To date, DePauw has not implemented freezes in hiring or spending. The administration has called upon all departments -- academic and non-academic -- to reduce expenditures. As positions open, the administration is reviewing whether the spot fills a critical need, and will delay filling open posts that ar
e deemed non-essential.
"While I wish to reiterate our commitment to maintaining essential activities, I would be remiss if I failed to state that the full effect of the financial crisis might not be known for some time," the president's letter notes. "DePauw's Board of Trustees, senior administrators, and I have been addressing these issues since the semester began, and we have been vigilant in keeping abreast of the challenges thus far. But financial difficulties are likely to be ongoing."
The president wishes to assure the DePauw community that, as of today, the University:
is committed to maintaining current levels of scholarship support to its students.
is moving forward with all tenure-track faculty searches; and
plans no reductions in tenure-track faculty positions.
President Casey asserts, "We will weather this storm -- there may be many painful decisions to make while we are adjusting to changed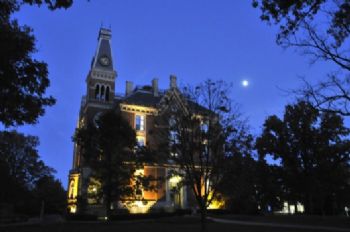 circumstances, but this University will preserve its core activities and its commitment to teaching and learning at the highest level."
He stresses, "Continued Annual Fund support by alumni and other friends has never been more important. This institution has faced challenges before and it has been the strength of the full community has guided DePauw through previous travails, bringing it to national prominence. That loyalty and belief in the University's commitment to teaching and scholarship will remain DePauw's very foundation."
Access a PDF of the president's letter by clicking here.
Back