Two DePauw Professors to Make Presentations at Conference on Late Antiquity
March 1, 2009
March 1, 2009, Greencastle, Ind. — Two DePauw University professors -- Jinyu Liu, assistant professor of classical studies, and Ellen Muehlberger, assistant professor of religious studies -- will be among the presenters at "Shifting Frontiers VIII: Shifting Cultural Frontiers in Late Antiquity." The conference will take place April 2 - 5 at Indiana University in Bloomington.
Dr. Liu's presentation is entitled "Fora and Public Honor in the Western Cities (IV-V Centuries)," while Dr. Muehlberger will discuss "Negotiations with Death: Ephrem's Control of Death in Dialogue." Scholars from eight countries will make presentations at the event.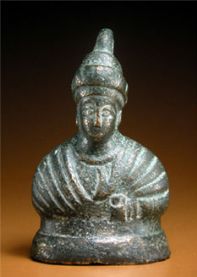 "Beneath the familiar political and religious narrative of late antiquity lies a cultural history both more complicated and more fascinating," notes the conference organizers." Late antiquity was a time of intense cultural negotiation in which new religious communities and new populations sifted through existing modes of cultural expression, adopting many elements for themselves and turning others aside. This conference seeks to understand how cultural transformation occurred amidst the political and religious disruption that can seem characteristic of late antiquity."
Learn more at the event's Web site, where you'll also find a schedule of presentations.
Back