Nine from DePauw Contribute to Third Edition of Technology Book
January 14, 2009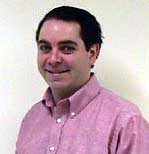 January 14, 2009, Greencastle, Ind. — The third annual edition of The Impact of Tablet PCs and Pen-based Technology on Education 2008: Evidence and Outcomes, published by Purdue University Press, includes contributions from nine members of the DePauw University community. The book was co-edited by Dave Berque (pictured), professor of computer science at DePauw, along with Jane Prey of Microsoft Research and Rob Reed of Hewlett Packard.
The book "includes eighteen full-length peer-reviewed papers that report on the application and evaluation of pen-based technology in a wide range of educational settings and subject areas," notes a synopsis on the back cover. It also contains "fourteen short abstracts that summarize the keynote talks, posters, and videos that rounded out this year's WIPTE [Workhop on the Impact of Pen-based Technology on Education] program. The reader will notice that the range of papers includes K-12 and higher education as well as a diverse set of subject areas. In total, these papers include evaluation data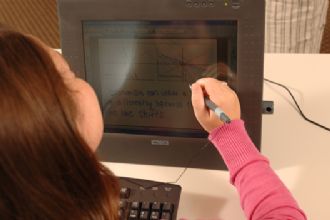 taken from more than 3,400 students and sixteen faculty members across a broad range of disciplines."
DePauw constituents authored two of the full-length papers in the book:
"Turning the Classroom Upside Down Using Tablet PCs and DyKnow Ink and Audio Tools," by Dr. Berque; 2008 graduate Chad Byers (now in graduate school in computer science at Michigan State University); and DePauw junior Ashley Myers.
"Using Tablet PCs and DyKnow Vision to Enhance Student Engagement in a Human Anatomy Class," by Pascal Lafontant, assistant professor of biology at DePauw.
In addition, two shorter abstracts appear in the book:
"Teaching with Tablet PCs at DePauw University: Using Pen-based Technology to Enhance Teaching and Learning," authored by Berque, Carol Smith '85, interim chief information officer at DePauw; Doug Fellegy '05, Information Technology Associates Program (ITAP) digital video instructor; 2008 graduate Erin Faulk; and current junior Curlee Morrissette.
"Marking up the Score: Tablet PCs and Music Theory," by DePauw School of Music faculty members Carlos Carrillo and Scott Spiegelberg.
Order the text at the publisher's Web site.
Read about last year's edition of the book in this story.
Dave Berque's work at DePauw led to the development of pen-based technology, now known as DyKnow Vision, that is being used in classrooms around the nation. The professor received the 2007 Mira Techpoint Award for "Education Contribution in Technology - Individual" for his efforts to create the software. The professor was profiled on Indianapolis' WISH-TV in October 2006 and was recognized in 1997 as the Carnegie Foundation for the Advancement of Teaching Outstanding Baccalaureate Colleges United States Professor of the Year.
Back