MoveSmart Founder and CEO Mary Beth Oakes '90 Tells Star of "Big Break"
January 4, 2009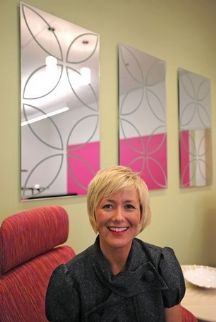 January 4, 2009, Greencastle, Ind. — "My big break happened while one of my colleagues was on vacation in the summer of 2007, and she asked me if I could attend a meeting on her behalf with our client, Alex White, chief architect and global workplace strategist at Eli Lilly and Co. ," Mary Beth (McCormick) Oakes tells the Indianapolis Star. "Little did I know that this meeting would provide me with the inspiration to create an exciting new business." Oakes, founder and CEO of MoveSmart LLC and 1990 graduate of DePauw University, is the subject of today's "My Big Break" feature. (photo: Alan Petersime/Indianapolis Star)
"During that meeting, I learned from Alex about Lilly's innovative strategy for creating an integrated workplace that would provide its employees with a variety of spaces to do their best work," she recalls. "Integrated workplace spaces there would feature mobile work styles and a variety of technology tools, all with the goal of improving satisfaction, business agility, innovation and productivity. As a result of the workplace transformation that was about to occur at Lilly, Alex asked me to develop a service called 'Move Genius' that would help the integrated workplace team embrace the changing work environment."
Oakes, who was then the vice president of marketing and communication at Business Furniture, went on to form MoveSmart last summer. She writes, "My 'aha' moment came recently as I was talking with Alex about the possibility of integrated workplaces extending to Lilly work environments all over the world, and the need for the move genius

service in those spaces, too. At that moment, I realized that the Move Genius concept for change management was viable and relevant for other companies all over the world. My interaction with Alex and Lilly had changed my vision, and had given me a big break."
Read the full piece -- which notes Oakes' degree in communication from DePauw -- at IndyStar.com.
Video of her recent appearance on TV's Inside Indiana Business can be seen via this link.
Back