Tigers Top 18th-ranked Colonels, 78-74
January 4, 2009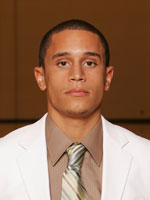 January 4, 2009, Greencastle, Ind. — Mike Moore (pictured) scored a season-high 30 as DePauw won for the eighth time in the last 10 contests with a 78-74 Southern Collegiate Athletic Conference victory over 18th-ranked Centre.
The Tigers improved to 8-4 overall and 2-1 in the SCAC, while Centre dropped to 8-3 overall and 2-1 in conference play. With the win, DePauw snapped Centre's SCAC record 22-game conference win streak.
Centre led by as many as nine in the first half, but the Tigers rallied with a 15-4 run to take a 30-28 lead with 3:16 left. Centre knotted the score, but DePauw scored the next nine to take a 39-30 advantage with 1:25 left on the way to a 42-34 halftime lead.
DePauw still held a nine-point advantage at 53-44, but the Colonels scored 13 consecutive over the next seven minutes to regain the lead at 57-53. After three ties and two lead changes, Centre was ahead, 64-63, after T. C. Thomason hit one of two free throws with 4:33 left.
Tom Callen then started a 9-0 run with two free throws and a layup before Tony James hit a jumper and Moore followed with a three to make it 72-64 with 2:14 left. The Colonels scored five straight to close to within three with just over one minute left and had a chance to tie, but missed a three with 19 seconds left. Callen followed with two free throws to make it 74-69.
The teams swapped buckets before Centre's Kris Bentley hit three free throws to close DePauw's lead to 76-74 with four seconds left, but Moore nailed a pair with two seconds remaining to seal the win.
In addition to Moore's 30, Callen added 20 and James 10. James paced the Tigers with five assists, while David Gray matched a career high with seven rebounds.
Bentley led Centre with 21, while Danny Noll finished with 15 and Thomason scored 13. Alex Lloyd hauled down six rebounds as the Colonels held a 24-22 edge on the boards. Crowdis dished out a team-high four assists.
The Tigers shot 56.3 percent from the floor and connected on 5-of-7 from three-point range. The Colonels hit 54.2 percent from the field and hit 9-of-21 from beyond the arc.
DePauw returns to action on Friday, January 9, when it hosts Birmingham-Southern at 6 p.m.
Back