Indiana U Assistant Royce Waltman to Lead DePauw Basketball Program
May 5, 1987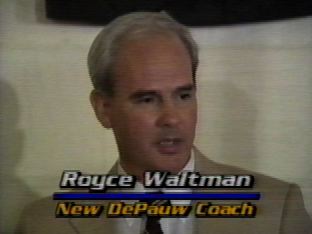 May 5, 1987, Greencastle, Ind. — "For the past five years Royce Waltman has been on the opposite end of the bench from Bob Knight at IU, but today he moved to the other end of the bench," noted Indianapolis NBC affiliate WTHR-TV this evening. The station's sportscasts featured footage from the news conference held today at the Canterbury Hotel in Indianapolis at which Waltman was introduced as the new men's head basketball coach for the Tigers.
"Waltman replaces Mike Steele, who left for East Carolina in March," noted the station at 5 p.m., adding, "Waltman was mainly attracted to DePauw because of its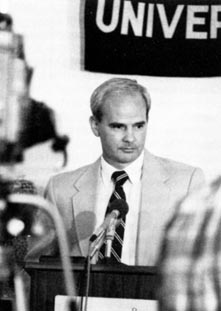 academic standards."


[Download Video: "5 p.m. WTHR Report" - 1005kb]
"If you spend five years at Indiana working under Coach Knight and you don't bring some of those things with you I think you'd be rather foolish," Waltman said at the media event, in clip carried during Channel 13's 6 p.m. newscast. "So when you see DePauw play, I'd like to think that you'll see aggressive man-for-man defense and you'll see unselfish movement on offense but most of all just players who are dedicated to playing as hard and unselfishly as they know how."


[Download Video: "6 p.m. WTHR Clip" - 1511kb]
"It speaks well for DePauw that a person coming out of a program like Indiana University's wants to come to DePauw," noted President Robert G. Bottoms. 'It is important to us to find a coach who comes out of a winning tradition, but it is even more important to get a person who can attract young men who are interested in getting a quality education while playing intercollegiate sports."

[Download Video: "More TV Coverage" - 2601kb]
Waltman's resume includes serving as head basketball coach at Bedford High School in Pennsylvania, where he compiled a record of 277-113 from 1966 to 1981. He assisted with the preparation of the 1984 United States Men's Olympic basketball team which captured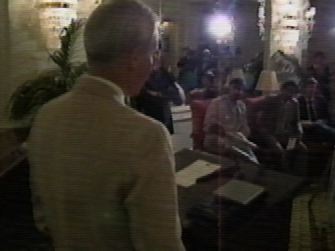 a gold medal at the Los Angeles games.
DePauw's men's basketball teams have appeared in four consecutive NCAA Division III tournaments, recording 94 wins and just 20 losses over that period of time. In addition, each of the last 11 semesters the basketball team has maintained at least a 3.0 grade point average.
"I'm really appreciative of the opportunity to come to DePauw," Waltman says. "This school has a great tradition and recently basketball has been a large part of that tradition."
Learn more about the men's basketball program by clicking here.
Back