Jon Stewart Mentions DePauw's Kresge Auditorium on TV's Daily Show
January 5, 2009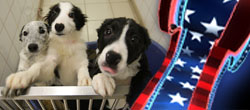 January 5, 2009, Greencastle, Ind. — "Who will be the Obama administration's First Dog?," asked Jon Stewart on Comedy Central's The Daily Show. "Tonight we get our first glimpse at the candidates as millions were glued to their television sets for the CNN Puppendential Debate, broadcast live from DePauw University's Kresge Auditorium."
The humorous segment, which aired tonight, featured CNN's Anderson Cooper "interviewing" the canine "candidates." DePauw was not seen in the piece, and it's not clear why the program decided to use Kresge Auditorium as the "site" of the mock debate.
A video clip of the complete segment is available at the program's Web site. A short edited video can be found here:

[Download Video: "Edited Daily Show Clip" - 3002kb]
Located in the Judson and Joyce Green Center for the Performing Arts, Kresge Auditorium has hosted thousands of events since its dedication in 1976, including dozens of Timothy and Sharon Ubben Lectures (including talks by Shimon Peres, John Major,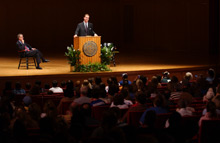 Peyton Manning, Barbara Bush, Paul Bremer, Greg Mortenson and Mike Krzyzewski) and countless concerts by DePauw University School of Music groups and ensembles, as well as visiting artists such as the Black Eyed Peas, Third Eye Blind, Billy Joel, Ben Folds and Dave Matthews. (at right: Manning delivering an Ubben Lecture in Kresge Auditorium)
In 2004, Marvin's, a popular student eatery on the DePauw campus, was mentioned in an episode of the CBS series Joan of Arcadia. Learn more in this previous story.
Back