Second-half Rally Propels Tigers to Win over Panthers
January 9, 2009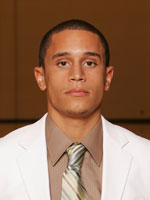 January 9, 2009, Greencastle, Ind. — Host DePauw scored 17 straight points in the second half and claimed a 79-63 win over Birmingham-Southern. The Tigers improved to 9-4 with their fourth straight win and ninth in the last 11, while the Panthers dropped to 7-5.
Birmingham-Southern led by as many as seven in the opening half, but DePauw rallied for a 33-29 halftime lead. The Tigers still held a 42-38 advantage after the Panthers' Roger Williams hit a layup with 13:52 left.
Mike Moore (pictured left) knocked down a three before Tom Callen hit two buckets to start the 17-0 run. Drew Wills followed with a jumper and two free throws before Sean Haseley and Tony James (pictured below) each banged in threes to make it 59-38 with 9:50 remaining. Birmingham-Southern got no closer than 12 the rest of the way as the Tigers shot 70 percent from the floor in the final 20 minutes after hitting just 37 percent in the first half.
Moore paced the Tigers with 28 points, seven rebounds and four assists, while James notched a career high with 16 points and Callen followed with 11. James totaled a career-best four steals in the win and David Gray blocked three shots.
Williams led the Panthers with a double-double of 14 points and 10 rebounds with Nathan West adding 11 points. Aaron Parr dished out five assists and Dominic Whicher blocked three shots.
DePauw shot 51.1 percent for the game with the Panthers connecting on 46.7 percent. The hosts hit 8-of-17 three-pointers and were 23 of 28 from the charity stripe.
The Tigers host Rhodes on Sunday at 1 p.m., while Birmingham-Southern travels to Centre.
Back