Tigers Claim 80-48 Win over Birmingham-Southern
January 9, 2009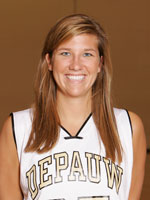 January 9, 2009, Greencastle, Ind. — DePauw used an 11-1 run late in the first half and scored the first seven points of the second half to pull away from Birmingham-Southern in an 80-48 win. The Tigers improved to 10-3 with their 32nd straight home win, while the Panthers dropped to 8-5.
The Tigers scored the game's first seven points and never trailed. DePauw led 28-22 with just under five minutes left before Lauren Goff hit her second three-pointer of the half. Cassie Pruzin followed with a jumper and Emily Marshall added two free throws to push the margin to 35-22.
Birmingham-Southern added a free throw, but Andrea Travelstead's layup and Marshall's two free throws extended the lead to 39-23. Brianna Frigerio knocked in a three early in the second half which started a 7-0 run and the Tigers gradually stretched the lead to as much as 34 points.
Marshall (pictured above), Brooke Osborne and Danielle Boraz (below) each scored 12 in the win as 13 different Tigers scored. Travelstead hauled down a game-high 10 rebounds as DePauw held a 45-26 advantage on the boards. Pruzin paced the Tigers with five assists.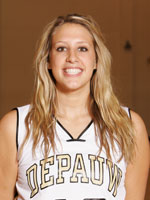 Fredreka Burrell led the Panthers with eight points,while Elyse Clay and Laura Kneiss each grabbed four rebounds. Danielle Harbor dished out a game-high six assists.
The Tigers shot 48.3 percent from the floor and equaled a season high with 10 three-pointers in 17 attempts. The Panthers shot just 31.6 percent from the floor and hit only 4-of-19 threes after entering the game ranked 10th in Division III three-point percentage.
DePauw hosts Rhodes at 3 p.m. on Sunday, while Birmingham-Southern travels to Centre.
Back