Two Incoming Posse Scholars Featured in Chicago Paper
January 13, 2009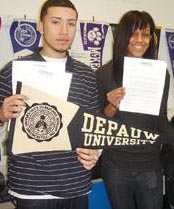 January 13, 2009, Greencastle, Ind. — "If you have a degree no one can take that from you," says Justin Agrelo, a senior at Chicago's Kelvyn Park High School. He and classmate Sasha Peña have both received scholarships from the Posse Foundation and plan to attend DePauw University in the fall, reports Extra, which bill itself as "Chicago's leading bi-lingual newspaper." (photo, l-r, Agrelo and Peña; courtesy: Extra/Silvana Tabares)
"If you don't have money, don't stop trying. There is always something out there to help you," adds Agrelo.
Peña, who will be the first member of her family to attend college, tells the publication, "I want to be a role model for my sisters."
The Posse Foundation identifies, recruits, and trains student leaders from urban public high schools to form multicultural teams called "posses." The program sends students to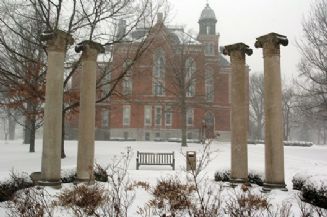 top-tier colleges and universities nationwide to pursue their academics and help promote cross-cultural communication. DePauw has partnered with the Posse Foundation since 1996 and became the first college in the nation to host two Posse groups (from New York and Chicago).
Access the story at the newspaper's Web site.
Posse Foundation founder Deborah Bial provided the commencement address to DePauw's Class of 2008 last May. Details can be found in this article.
Back