Rising Popularity of 'Crime Rags' is "Painful" to Prof. Bob Steele '69
January 13, 2009
January 13, 2009, Greencastle, Ind. — "This is a sad commentary on the state of American journalism," Bob Steele, Eugene S. Pulliam Distinguished Visiting Professor of Journalism at DePauw University, says of the increasing popularity of so-called "crime rags" -- local tabloids that publish news of arrests and mug shots. Steele is quoted in a Christian Science Monitor report that examines the success of North Carolina's Slammer and other publications. "It's really painful to know that so many publications are struggling terribly and something as schlocky as this is succeeding," Steele adds.
"If Jerry Springer came in newsprint, the Slammer could be it -- a garish compilation of the week's local crimes and their alleged perpetrators," writes the Monitor's Patrik Jonnson. "The men and women, with their dour mugs, bloodied noses, and booze-induced grins, have been arrested for everything from skipping a court date to robbing a food mart. It is, in essence, the local police blotter writ large ... At a time when dozens of U.S. newspapers are searching for buyers and for cash, the Slammer's newsstand profit margin is four times that of most local dailies, and its circulation has grown to 29,000 -- up nearly 50 percent from 20,000 just last year. At more than 500 convenience stores across North Carolina, it's selling at a buck a pop."
The crime tabloids even go so far to mock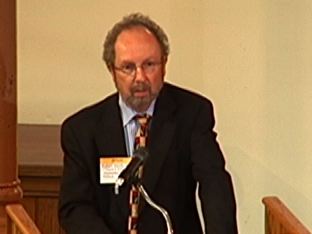 some of the accused perpetrators. That troublesome in a nation where people are assumed innocent until proven guilty, says Professor Steele. "They're basically creating a miniature billboard in which these individuals are named and visually identified, often pejoratively, in a way that does not give them a fair hearing," he declares.
You'll find the complete story by clicking here.
A 1969 graduate of DePauw, Bob Steele also serves as Nelson Poynter Scholar for Journalism Values at the Poynter Institute. Learn more about him in this recent article.
Source: Christian Science Monitor
Back