Wind Chill Advisory Continues Until 1 p.m. Friday
January 15, 2009
January 15, 2009, Greencastle, Ind. — "DePauw student Alex Ronan didn't let a little snow bother her as she headed home on the DePauw campus Wednesday afternoon," notes a caption accompanying a photo (seen at left) in today's Banner-Graphic. The Greencastle newspaper reports that yesterday, "The county was hit by several inches of snow as well as bone-chilling temperatures."
The National Weather Service has issued a Wind Chill Warning, which remains in effect until 1 p.m. tomorrow. Bitter cold temperatures combined with northwest winds of 15-to-20 miles per hour will produce wind chills between 15 and 30 degrees below zero today, and between 20 and 30 below tonight. The forecast calls for some improvement in conditions tomorrow as temperatures warm slightly.
"Low temperatures combined with wind can create safety issues when exposure is only minutes," stresses Angie Nally, director of public safety at DePauw University, in an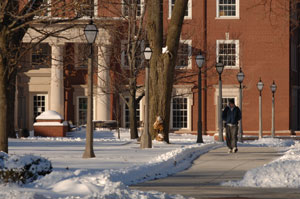 e-mail message sent across campus. "One of the gravest dangers of winter weather is wind chill. The wind chill is based on the rate of heat loss from exposed skin by combined effects of wind and cold. As the wind increases, heat is carried away from the body at an accelerated rate, driving down the body temperature. Please take the precaution of dressing in layers and leaving as little skin exposed as possible. Do not be outside for extended periods. We also encourage you to inform someone when you plan to be outside, your intended path of travel, estimated time of arrival, and when you have arrived safely."
For the latest on weather conditions, visit Weather.com.

Back