Indianapolis Star: 'DePauw Students on Hand for Hudson River Rescue'
January 16, 2009
January 16, 2009, Greencastle, Ind. — "Two DePauw University students got a firsthand view of the drama Thursday on the Hudson River," begins a story in this morning's Indianapolis Star. "Juniors Megan Soultz and Matthew Nance -- in New York for an internship with the Fire Department -- found themselves shadowing medical personnel as they treated rescued passengers from a US Airways plane that landed in the river ... Soultz and Nance, both emergency medical technicians, said they were following Dr. John Freese [DePauw '96], the Fire Department's medical director, for a monthlong internship when the emergency call came in Thursday," writes Vic Ryckaert. (photo: Janis Krums)
Soultz tells the newspaper, "Most of what we saw were minor injuries, mostly hypothermia. The patients we saw were not completely submerged in water -- calf-deep, thigh-deep from standing on the wing."
Adds Nance, "It's humbling to a very large degree that I got to see a very large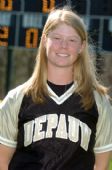 event. Humbled is the first emotion. After that, it's excitement and joy that I got to be a part of it."
The text adds, "Soultz said she wants to go to medical school after graduating. Nance said he wants to be a paramedic." (at right: Megan Soultz)
Read the complete story -- "DePauw students on hand for Hudson River rescue" -- at IndyStar.com.
Megan Soultz was also interviewed by Indianapolis CBS affiliate WISH-TV on last night's 11 p.m. newscast. Read more here.
Back