Late Second-Half Run Sends Tigers to Sixth Straight Win
January 16, 2009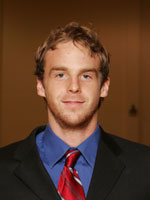 January 16, 2009, Greencastle, Ind. — DePauw used an 8-1 run over a one-minute stretch late in the game to pull away from visiting Austin and take a 73-59 Southern Collegiate Athletic Conference win over the Kangaroos.
The Tigers improved to 11-4 overall and 4-1 in the SCAC with their sixth straight win and 11th in the last 13, while Austin dropped to 8-6 overall and 3-3 in the conference.
DePauw led by as many as nine in the first half on the way to a 32-26 halftime advantage, but the Kangaroos closed to four at 41-37 on Adam Bishop's three-pointer with 12:36 left.
Three-pointers by Mike Moore and Sean Haseley pushed the margin to double digits for the first time in the game, but Austin scored the next five to trim the lead in half at 47-42.
The Tigers still held a 59-52 advantage before David Gray knocked in two free throws with 3:27 left. Austin's Chris Sturtevant hit one charity toss, but Joe Bergfeld extended the lead to 63-53 with a layup at the 2:42 mark.
Drew Wills snagged a defensive rebound on the next possession and the Kangaroos' Kola Alade was whistled for a personal foul and a technical foul. Moore knocked in the first two free throws and Wills the next pair to make it 67-53 with 2:26 left..
Moore paced the Tigers with 15 points, while Tom Callen (pictured) recorded his third double-double of the season with 14 points and a career-high equaling 11 rebounds. Tony James scored 11 in the win and Bergfeld added 10.
Alade led the Kangaroos with 21 points and four assists, while Sturtevant added 11. Spencer Burke snagged nine rebounds in the loss.
DePauw shot 42.6 percent from the floor, but nailed 22 of 26 free throws and committed just nine turnovers. Austin hit 35.8 percent for the game including 34.5 percent in the first half. The Tigers held a 35-31 edge on the boards and a 17-6 edge in points off turnovers.
The Tigers return to action on Sunday when they host Colorado College at 1 p.m., while Austin faces Centre tomorrow night.
Back