Hometown Newspaper Writes of Junior's Life-Changing Internship Experience
January 19, 2009
January 19, 2009, Greencastle, Ind. — "It was the last thing he expected, but the first thing he was hoping for during his internship with the Fire Department of New York," begins a story in Indiana's Lebanon Reporter. "Not that he was hoping for people to be hurt. It's his personal policy that people are going to get hurt. He just wants to be there to help. So when US Airways Flight 1549 crashed into the Hudson River Thursday, Matthew Nance was glad he was there to lend a hand. DePauw University junior Nance, of Lebanon, was in New York getting class credit for an internship with Dr. John Freese, the medical director for FDNY, when Freese received a page."
Nance recalls, "He read it, looked up and said, 'Wanna go on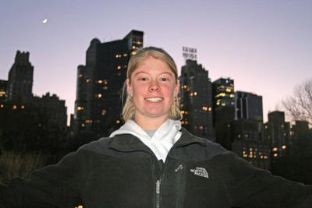 something interesting?'"
Dr. Freese, a 1996 DePauw graduate, brought Nance and another DePauw intern, junior Megan Soultz (pictured at right), to the river where they "went through all the necessary blockades and boarded a small boat with about 20 patients to treat," writes Sarah Lang. "At first it was excitement. There was so much going on, and Nance was thrilled to be part of something so great. Then humility set in as he noticed boats just like his all around, with scores more patients. The situation was much bigger than he thought."
The newspaper notes, "Nance, who took an EMT course two years ago, chose to take this internship during his one-month winter term. Though he is an English literature major, he said he still might end up in emergency management."
"Next time I see or hear something like this on the news, it will be very tangible to me," Nance says. "I'll have that insider's perspective."
Access the complete story at the Reporter's Web site.
Nance and Soultz have been featured in a number of media reports since Thursday's incident (at top is an image from Indianapolis NBC affiliate WTHR, which interviewed Nance by phone Friday). You'll find a video report by WRTV/ABC in this article, another piece which aired on WISH/CBS, and an Indianapolis Star summary of the two students' role in the US Airways rescue operation.
Back