Tigers Roll to 10th Straight Win
January 18, 2009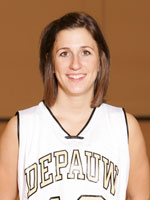 January 18, 2009, Greencastle, Ind. — Host DePauw scored 13 straight over a three-minute stretch of the first half to expand a two-point lead to 15 on the way to a 78-52 Southern Collegiate Athletic Conference win over Colorado College.
The Tigers improved to 13-3 overal and 5-1 in the SCAC with their 10th straight win, while Colorado College dropped to 10-5 overall and 4-3 in the SCAC.
After building a double-digit lead, DePauw scored the final 10 points of the first half to take a 41-19 advantage at the intermission. They expanded the margin to as much as 34 at 73-39.
Cassie Pruzin (pictured) led DePauw with 17 points and seven assists as she knocked down 5-of-7 three-pointers. Lauren Goff added 14 in just 13 minutes and hit 4-of-6 from beyond the arc. Emily Marshall matched a career high with 12 rebounds as DePauw held a 42-32 edge on the boards.
Melanie Auguste led Colorado College with 21 points, 12 rebounds and five assists. Eliese Hansberry followed with 12 points.
DePauw shot 45.3 percent from the floor including an 11-of-20 performance from three-point range. Colorado College shot 33.9 percent for the game and committed 21 turnovers which DePauw converted into 28 points.
The win was also DePauw's 35th straight at home and 52nd consecutive regular season home victory. It also extended the Tigers' SCAC home win string to 43.
The Tigers return to action on Friday, January 23, when they travel to Millsaps.
Back