Three Professors and DePauw Chamber Symphony to Contribute to Music Convention
January 21, 2009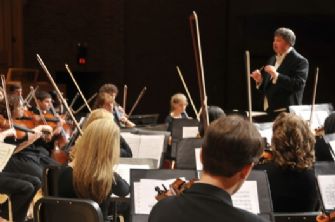 January 21, 2009, Greencastle, Ind. — Two DePauw University School of Music faculty members will be among the presenters, and a student musical group will be featured, at the 2009 convention of the Indiana Music Educators Association (IMEA)/National Association for Music Education (MENC) North Central Division. The event begins tomorrow and continues through Saturday at the Indiana Convention Center and Lucas Oil Stadium in Indianapolis.
On Friday, January 23, at 2:30 p.m., Nicole Brockmann (seen at right), assistant professor of music, will present "Eurhythmics in the Instrumental Setting." The DePauw Chamber Symphony, directed by Orcenith Smith, will serve as the demonstration group for this session, performing works from their recent concert tour of Austria for workshopping and experimentation. Audience members will have the opportunity to participate in a variety of activities and discussion leading to a more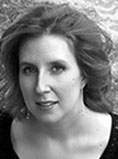 active awareness of the relationship between movement, energy and musical expression both for spectators and for the students in the ensemble. Creative activities for engaging attention, improving ensemble, developing quick-response skills, and solving other common problems faced by ensemble directors will also be explored, and the session will include work that might be done in small groups or in private or class lessons as well as with a large ensemble.
On Saturday, January 24, at 2:30 p.m., Caroline Jetton (pictured below left), associate professor of music and dean of the School of Music, will present "Ensuring a Successful Student Teaching Experience: What I Wish I'd Known Then..." Professor Jetton, along with four recent student-teachers, will share ideas for ensuring a successful student-teaching
experience, as well as tips for establishing and maintaining good working relationships throughout the student-teaching semester and beyond.
Nicole Brockmann is the immediate past president of the Dalcroze Society of America and authored the forthcoming book, From Sight to Sound: Improvisation Games for Classical Musicians, due out this spring from Indiana University Press. In addition to her work in these areas, she also offers "Performing Eurhythmics" master classes, in which she applies Eurhythmics techniques to problem-solve troublesome areas and enhance musicality in student performances of solo repertoire. Because the approach to problem-solving is through Eurhythmics rather than applied instrumental or vocal technique, these master classes are suitable for both vocalists and instrumentalists of all types.
Orcenith Smith has achieved success in both professional and academic settings, his concerts distinguished by passionate interpretations combined with thoughtful and diverse programming. He
has conducted nearly 700 performances of orchestral, operatic and choral/orchestral repertoire for which critical acclaim has come both here and abroad.
Caroline Jetton received a bachelor of music education degree from Murray State University, a master of music degree from the University of Memphis, and an Ed.D from the University of Illinois at Urbana-Champaign. While at UIUC, she was the recipient of the Marilyn Pflederer Zimmerman Doctoral Fellowship in Music Education. Prior to coming to DePauw, she taught concept-based music education at the University of Illinois Laboratory School and was an Orff Music Specialist in the Memphis City Schools working with students in kindergarten through grade six as well as students with disabilities.
Learn more about the IMEA/MENC Convention by clicking here.
Visit the DePauw School of Music online.
Back