Sundance and Slamdance Film Festivals - Winter Term '09
January 23, 2009
"No prerequisites for the course except love of film - especially independent film."
-Winter Term 2009 Sundance and Slamdance Film Festivals course description
The Sundance Film Festival just marked its 25th anniversary in Park City, Utah. DePauw professors Peter A. Graham and Elizabeth "Lili" D. Wright were there this January with 20 DePauw students for Winter Term to help celebrate hundreds of independent films and filmmakers.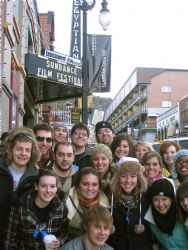 The Sundance Winter Term course was developed by Graham and Wright, who have led it for six years. Their trips to the independent film mecca and the course's popularity coincide with the successful development of DePauw's Film Studies Program, which Graham helped to establish in the spring of 2001.
The Sundance Film Festival has been hailed as the place to be and be seen for independent filmmakers and supporters. The Slamdance Film Festival is also hosted in Park City and boasts that it's a film festival "by filmmakers for filmmakers." This festival includes directors who have limited or no budgets.
The DePauw students began their Winter Term on campus by studying the history of independent film, watching past Sundance and Slamdance films and learning cinematic vocabulary that enabled them to better discuss and write about film.
While in Park City, the students were required to see a dozen films including features, dramas, documentaries, foreign films and shorts. They wrote film reviews, interviewed filmmakers or actors and wrote profiles. They also had a short internship at The Slamdance Film Festival. The complete course description can be accessed here.
Students often had the opportunity to talk with more than one actor. Samantha "Sammi" B. Levy '10 attended the showing of Paper Heart, and sat behind the star of the film, Michael Cera. "Sitting behind Michael Cera (Superbad, Juno, Arrested Development) at the premiere screening of Paper Heart was a dream come true," Levy says. "I could hardly breathe when I got up the nerve to ask him for a picture with me and my fellow DePauw Winter Termers."
Levy also saw the Sundance film, Finding Bliss, starring Denise Richards. The photo (at right) includes Anne E. Sexton '11, actress Denise Richards, Samantha B. Levy '10 and Mary L. Stoecklein '10.
Levy reflects on her Winter Term experience, "While film majors were obviously attracted to the trip, there were also writing, literature, psychology, even physics majors among the 20 of us." She continues, "In the 10 days we stayed in Park City, I learned more about the film industry than I ever thought was possible. Whether this experience has taken me a step closer to my future or just introduced me to some amazing films, it has broadened my horizons in a way a classroom never could. And I've got the picture with Michael Cera to prove it!"
Because of their diverse backgrounds in film and writing, Graham and Wright have made important contacts with film critics, composers, film festival directors and programmers, and independent filmmakers over the years, and the professors invite them to talk with the DePauw students at the festival. Salt Lake Tribune film critic Sean Means met with the students and talked about what it is like to cover Sundance as a writer. Tom Hall, director of programming for the Sarasota Film Festival, shared with students how he selects movies to show at his film festival. He also talked about why Sundance is the most important film festival and film market in the United States.
During the Winter Term 2008 trip to the Sundance Festival, DePauw students met with Sony Pictures Classics Executive Dylan Leiner. Later Leiner's boss, Tom Bernard, co-president of Sony Pictures Classics, along with two DePauw students were interviewed by NPR. The article can be read here.
DePauw's Film Studies Program and the Winter Term trip to Sundance and Slamdance Film Festivals have influenced many students, including Bryan J. Dobrik '07. He was a film studies major who went on the Winter Term trip to Sundance. He and Luis F. Davila '07 won awards at film festivals for their film, Shades of Grace, which they made during their senior seminar. Read more about their awards here.
Also influenced by his exposure to film studies at DePauw, Michael J. Mihovilovich '05 is a Hollywood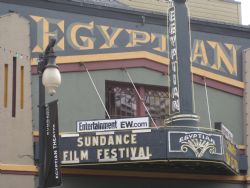 producer. While he took many film courses at DePauw, film studies wasn't offered yet as a major when he was an undergraduate. He didn't go to Sundance as a DePauw student, though he was there this year and met with Graham to discuss future talks with DePauw students on Winter Term trips to Park City.
Matthew A. Lessall '93 is a casting director who owns his own agency in Hollywood. Lessall also took film courses at DePauw before film studies became a major. He spoke with the DePauw students at Sundance last year and visited campus several years ago to talk with students.
Graham is associate professor of English and teaches creative writing, literature and film courses. He helped establish film studies at DePauw and was program director for five years.
Wright is the Richard W Peck Professor of Creative Writing and an associate professor of English. She teaches journalism and creative nonfiction in addition to advising the twice-weekly student newspaper, The DePauw.
Winter Term takes place each January between fall and spring semesters. It reflects DePauw's serious commitment to non-traditional, experiential learning. Winter Term is a time of adventurous, intellectual exploration in an atmosphere with a reduced emphasis on grades. Each year, DePauw professors and staff members offer a plethora of incredible opportunities for students. Click here to see a comprehensive list of Winter Term 2009.
Back