At 17-1, Butler and Coach Brad Stevens '99 Enjoying "Dream Season"
January 24, 2009
January 24, 2009, Greencastle, Ind. — "Butler is having yet another dream season, and in the process, Stevens is establishing himself as one of the country's brightest young coaches," declares the Indianapolis Star's Bob Kravitz of Brad Stevens. In his second year as head coach of the Division I Bulldogs, Stevens -- a 1999 graduate of DePauw University -- has his team's record at "17-1 and earned them the fastest start in the 117-year history of Butler basketball. They also became 8-0 in the Horizon League and won their 19th straight league game over the past two years. They are ranked 16th nationally."
Kravitz's column notes that this was expected to be a rebuilding season for Butler after the team graduated five seniors. "They lost 69 percent of their scoring, 57 percent of their rebounding.They had one returning starter (sophomore Matt Howard), zero seniors and six newcomers."
Of Stevens, the columnist writes, "It was hard to draw any conclusions about him after he led last year's team into the NCAA Tournament; that was a deep, talented, experienced team. But the job he has done with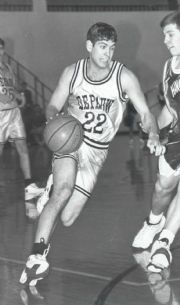 this group ... this has been Coach of the Year material." (at right: Stevens in action for the Tigers)
Stevens, who was an economics major and Management Fellow at DePauw, put little stock in a preseason poll that put his team fifth in the Horizon League, which it leads. "Early on in practice, you saw some things and said, 'If we can put this stuff together, we can have a pretty good team.' I was saying, if you looked at the schedule and saw where we had to play -- at Drake, at Bradley, at Ohio State, at Xavier -- you could be pretty good and not have the best record in the world. But this team has hung together. I like this team. They're just like last year's group and the group the year prior. They're just trying to get better. They're doing what we ask.''
Read the full text, "Butler is building to a dream season," at IndyStar.com.
Earlier this month, Brad Stevens received the Hugh Durham Award, presented to the nation's top mid-major coach by CollegeInsider.com. Details can be found in this article.
Back