Tigers Top Majors in SCAC Overtime Contest
January 23, 2009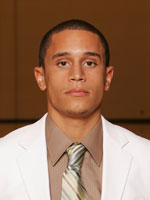 January 23, 2009, Jackson, Miss. — Tony James hit a three-pointer with 16.8 seconds left in the first overtime and Steve Lemasters knocked in a pair of free throws with 5.8 seconds remaining to lift DePauw to an 85-83 Southern Collegiate Athletic Conference win at Millsaps.
DePauw improved to 13-4 overall and 6-1 in the SCAC with its eighth straight win, while Millsaps dropped to 5-12 overall and 2-6 in the conference.
Lemasters forced the overtime after scoring the game-tying layup with 4.3 seconds left in regulation after rebounding Mike Moore's (pictured) potential go-ahead three-pointer.

In the extra session, Moore hit a pair of free throws with 1:05 left to tie the game at 80-80. The Majors couldn't convert on the other end before James knocked in what would be the game-winning trey.
Millsaps built as much as a 13-point lead in the first half at 29-16 and still led 34-23 after Chris Sanders hit a three with 4:44 left in the half. Tom Callen hit one of two free throws to start an 11-0 run which tied the contest at 34-34. DePauw led at the break, 39-38.
The Majors regained as much as a five-point lead early in the second half before DePauw used a 9-2 run capped by Moore's three-pointer with just under five minutes left to take their biggest lead at 67-60. Millsaps eventually gained a two-point lead after Chris Ingle's putback made it 72-70 with just over a minute left.
James then missed a three, but the Majors turned the ball over on their next possession which set up Lemasters' game-tying rebound.
Moore paced the Tigers with 28 points and hit 5-of-8 three-pointers, while Lemasters added 21 and Callen followed with 14 points and eight rebounds. James dished out six assists.
Blake Martinez led Millsaps with 29 followed by Sanders with a double-double of 19 points and 10 rebounds. Chad songy added 13 points and seven assists and Ingle finished with 11 points.
Both teams were hot from the floor with DePauw hitting 52.6 percent including 60 percent in the first half, while Millsaps connected on 54.7 percent and 66.7 percent in the opening 20 minutes. Millsaps held a 31-27 edge on the boards.
DePauw travels to Hendrix where they'll face the Warriors on Sunday at Noon CST.
Back