DePauw Wins 11th Straight with 85-51 Victory at Millsaps
January 23, 2009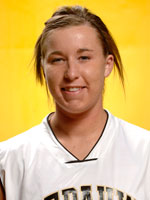 January 23, 2009, Jackson, Miss. — DePauw extended its win streak to 11 following an 85-51 Southern Collegiate Athletic Conference win at Millsaps.
The Tigers improved to 14-3 overall and 6-1 in the conference, while the Majors dropped to 9-8 overall and 4-4 in the SCAC.
DePauw took a 28-13 lead into the intermission after holding Millsaps to just 8.7 percent shooting from the floor including just two made field goals.
Millsaps pulled to within 55-41 with 9:46 remaining after Tiffany Whitmore scored a pair of buckets in a 10-second span.
Emily Marshall hit a pair of free throws before Lauren Goff knocked in a three and Marshall made two more charity tosses to start a 22-3 run which put the game away.
Brooke Osborne was DePauw's lone double-figure scorer with a career-high 14 points. Osborne also grabbed a career-best eight rebounds and shared the team lead with Marshall. Cassie Pruzin dished out seven assists and Katie Mathews added six in the win. All 15 Tigers reached the scorebook.
Whitmore led Millsaps with 17 points and four assists, while Janice Okeke paced the Majors with 10 rebounds.
The Tigers shot 48.4 percent for the game including 61.3 percent in the second half. DePauw also held a 56-29 advantage on the boards.
DePauw travels to Hendrix on Sunday where it will face the Warriors in a 2 p.m. CST contest.
Back