DePauw Aims for Ninth Straight Win on Sunday
January 24, 2009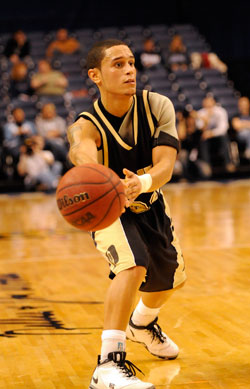 January 24, 2009, Conway, Ark. — DePauw takes an eight-game win streak into tomorrow's Southern Collegiate Athletic Conference contest at Hendrix College. Tipoff from Grove Gymnasium in Conway, Ark., is set for Noon CST.
The Tigers are 13-4 overall and 6-1 in the SCAC after Friday's 85-83 overtime win at Millsaps. DePauw received votes in this week's D3hoops.com Top 25 poll. Hendrix is 11-6 overall and 4-4 in the conference after losing at home to Centre on Friday by a 65-59 score.
Sunday's game can be heard live on WGRE (91.5FM) with Hendrix providing streaming video and live stats. A complete set of DePauw game notes is available for download.
Back