18th-ranked Tigers Top Titans; Improve to 6-1
January 24, 2009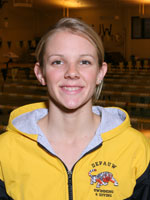 January 24, 2009, Bloomington, Ill. — The 18th-ranked Tigers improved to 6-1 on the season following a 158.5-137.5 win at Illinois Wesleyan.
The Tigers' 200-yard medley relay of Lindsay Riggs, Catie Baker, Amanda Stier and Rachel Wheaton opened the meet with a win in 1:55.08.
Stier (pictured) was a triple winner after finishing first in the 200 butterfly in 2:12.92, the 100 freestyle in 55.43 seconds and the 100 fly in 1:00.96.
Elizabeth Medlock won the 50 free in 26.36 seconds, while Baker took a first in the 200 breast in 2:29.35 and Callie Boehme won the 400 individual medley in 4:51.44.
Lindsay Baumann won the 1000 free in 11:26.09, while Gina Zerbini took first in the 100 breaststroke in 1:12.86.
DePauw hosts the University of Chicago on Saturday, January 31, at 1 p.m. in the season's final dual meet.
Licensed to Depauw University                             HY-TEK's Meet Manager
                          IWU vs. DePauw - 1/24/2009                           
                                    Results                                    
 
Event 1  Women 200 Yard Medley Relay
===============================================================================
    School                                                        Finals        
===============================================================================
  1 DePauw University  'A'                                      1:55.08  
     1) Riggs, Lindsay 10               2) Baker, Catie 12                
     3) Stier, Amanda M 09              4) Wheaton, Rachel 12             
  2 Illinois Wesleyan University-IL  'A'                        1:58.01  
     1) Peterson, Andrea FR             2) Bell, Katie FR                 
     3) Bittner, Melissa FR             4) Anderson, Lia                  
  3 DePauw University  'B'                                      1:58.80  
     1) Johnson, Danielle 10            2) Zerbini, Gina 12               
     3) Buth, Mallory 12                4) Enix, Cassie 10                
  4 DePauw University  'C'                                     x2:03.82  
     1) Francissen, Taryn 12            2) Bemendefer, Joan 12            
     3) Long, Sabrina 10                4) Tabler, Sally 11               
  5 Illinois Wesleyan University-IL  'B'                        2:08.67  
     1) Gradle, Amy FR                  2) Fredrickson, Kirsten FR        
     3) Hertel, Sydney FR               4) Current, Claire FR             
 
Event 3  Women 1000 Yard Freestyle
===============================================================================
    Name                    Year School                           Finals        
===============================================================================
  1 Baumann, Lindsey          12 DPU                           11:26.09  
  2 Morrison, Katie           12 DPU                           11:33.90  
  3 Litzner, Nicole           SR Titans-IL                     11:46.24  
  4 McVey, Claire             12 DPU                           11:49.30  
  5 Holisky, Eleanor          SO Titans-IL                     12:01.02  
  6 Bell, Katie               FR Titans-IL                     12:03.69  
  7 Khatcherian, Stephanie    SO Titans-IL                    x12:23.77  
 
Event 5  Women 200 Yard Freestyle
===============================================================================
    Name                    Year School                           Finals        
===============================================================================
  1 Lugg, Angela              FR Titans-IL                      2:00.14  
  2 Boehme, Callie            11 DPU                            2:03.23  
  3 Medlock, Elizabeth        11 DPU                            2:03.53  
  4 Enix, Cassie              10 DPU                            2:07.11  
  5 Riggs, Lindsay            10 DPU                           x2:12.75  
  6 Fitton, Jennifer          SO Titans-IL                      2:12.85  
 -- Norris, Maddy             FR Titans-IL                     X2:07.01  
 -- Kaulas, Caitlin           FR Titans-IL                     X2:13.64  
 
Event 7  Women 100 Yard Backstroke
===============================================================================
    Name                    Year School                           Finals        
===============================================================================
  1 Peterson, Andrea          FR Titans-IL                      1:02.32  
  2 Baker, Catie              12 DPU                            1:04.15  
  3 Tomazin, Angie            SR Titans-IL                      1:05.65  
  4 Johnson, Danielle         10 DPU                            1:07.17  
  5 Francissen, Taryn         12 DPU                            1:07.52  
  6 Buth, Mallory             12 DPU                           x1:07.74  
  7 Gradle, Amy               FR Titans-IL                      1:11.77  
 
Event 9  Women 100 Yard Breaststroke
===============================================================================
    Name                    Year School                           Finals        
===============================================================================
  1 Zerbini, Gina             12 DPU                            1:12.86  
  2 Bell, Katie               FR Titans-IL                      1:15.46  
  3 Bemendefer, Joan          12 DPU                            1:16.46  
  4 Hansen, Lauren            SO Titans-IL                      1:16.56  
  5 Fredrickson, Kirsten      FR Titans-IL                      1:18.25  
  6 Morrison, Katie           12 DPU                            1:20.25  
  7 Current, Claire           FR Titans-IL                     x1:27.45  
  8 Cox, Janet                09 DPU                           x1:30.11  
 
Event 11  Women 200 Yard Butterfly
===============================================================================
    Name                    Year School                           Finals        
===============================================================================
  1 Stier, Amanda M           09 DPU                            2:12.92  
  2 Tabler, Sally             11 DPU                            2:24.20  
  3 Bittner, Melissa          FR Titans-IL                      2:24.87  
  4 McVey, Claire             12 DPU                            2:26.03  
  5 Baumann, Lindsey          12 DPU                           x2:26.93  
  6 Long, Sabrina             10 DPU                           x2:34.57  
  7 Hertel, Sydney            FR Titans-IL                      2:43.64  
 
Event 13  Women 50 Yard Freestyle
===============================================================================
    Name                    Year School                           Finals        
===============================================================================
  1 Medlock, Elizabeth        11 DPU                              26.36  
  2 Tomazin, Angie            SR Titans-IL                        26.37  
  3 Enix, Cassie              10 DPU                              27.02  
  4 Anderson, Lia                Titans-IL                        27.17  
  5 Johnson, Danielle         10 DPU                              27.61  
  6 Fitton, Jennifer          SO Titans-IL                        28.23  
  7 Buth, Mallory             12 DPU                             x28.57  
  8 Khatcherian, Stephanie    SO Titans-IL                       x31.25  
 
Event 15  Women 1 mtr Diving
===============================================================================
    Name                    Year School                           Finals        
===============================================================================
  1 Calabrese, Meg            FR Titans-IL                       219.25  
  2 DeSutter, Lindsey         SO Titans-IL                       186.50  
  3 King, Catie               12 DPU                             156.15  
  4 Sebastian, Sam            SR Titans-IL                       149.00  
  5 Cramer, Arielle           FR Titans-IL                      x127.85  
 -- Christensen, Shvawn       12 DPU                                 DQ  
 -- McGonigal, Molly          12 DPU                                 DQ  
 
Event 17  Women 100 Yard Freestyle
===============================================================================
    Name                    Year School                           Finals        
===============================================================================
  1 Stier, Amanda M           09 DPU                              55.43  
  2 Tomazin, Angie            SR Titans-IL                        56.88  
  3 Wheaton, Rachel           12 DPU                              57.91  
  4 Anderson, Lia                Titans-IL                        58.19  
  5 Hansen, Lauren            SO Titans-IL                        59.46  
  6 Morrison, Katie           12 DPU                            1:00.81  
  7 Bemendefer, Joan          12 DPU                           x1:01.85  
 -- Kaulas, Caitlin           FR Titans-IL                       X59.16  
 
Event 19  Women 200 Yard Backstroke
===============================================================================
    Name                    Year School                           Finals        
===============================================================================
  1 Peterson, Andrea          FR Titans-IL                      2:16.32  
  2 Boehme, Callie            11 DPU                            2:19.29  
  3 Riggs, Lindsay            10 DPU                            2:23.80  
  4 Litzner, Nicole           SR Titans-IL                      2:25.32  
  5 Francissen, Taryn         12 DPU                            2:26.54  
  6 Holisky, Eleanor          SO Titans-IL                      2:37.69  
  7 Gradle, Amy               FR Titans-IL                     x2:38.96  
  8 Cox, Janet                09 DPU                           x2:43.78  
 
Event 21  Women 200 Yard Breaststroke
===============================================================================
    Name                    Year School                           Finals        
===============================================================================
  1 Baker, Catie              12 DPU                            2:29.35  
  2 Zerbini, Gina             12 DPU                            2:36.89  
  3 Bell, Katie               FR Titans-IL                      2:42.33  
  4 Khatcherian, Stephanie    SO Titans-IL                      2:52.37  
  5 Current, Claire           FR Titans-IL                      3:13.33  
 -- Norris, Maddy             FR Titans-IL                     X2:38.90  
 
Event 23  Women 500 Yard Freestyle
===============================================================================
    Name                    Year School                           Finals        
===============================================================================
  1 Lugg, Angela              FR Titans-IL                      5:20.10  
  2 Medlock, Elizabeth        11 DPU                            5:33.46  
  3 Fitton, Jennifer          SO Titans-IL                      5:40.73  
  4 Wheaton, Rachel           12 DPU                            5:43.59  
  5 Bittner, Melissa          FR Titans-IL                      6:02.48  
 -- Kaulas, Caitlin           FR Titans-IL                     X6:09.50  
 
Event 25  Women 100 Yard Butterfly
===============================================================================
    Name                    Year School                           Finals        
===============================================================================
  1 Stier, Amanda M           09 DPU                            1:00.96  
  2 Peterson, Andrea          FR Titans-IL                      1:05.26  
  3 Hansen, Lauren            SO Titans-IL                      1:05.73  
  3 Buth, Mallory             12 DPU                            1:05.73  
  5 McVey, Claire             12 DPU                            1:07.07  
  6 Long, Sabrina             10 DPU                           x1:10.45  
  7 Hertel, Sydney            FR Titans-IL                      1:12.10  
 -- Norris, Maddy             FR Titans-IL                     X1:04.62  
 
Event 27  Women 3 mtr Diving
===============================================================================
    Name                    Year School                           Finals        
===============================================================================
  1 Calabrese, Meg            FR Titans-IL                       201.15  
  2 DeSutter, Lindsey         SO Titans-IL                       198.15  
  3 Sebastian, Sam            SR Titans-IL                       177.00  
 -- King, Catie               12 DPU                                 DQ  
 -- Christensen, Shvawn       12 DPU                                 DQ  
 -- McGonigal, Molly          12 DPU                                 DQ  
 
Event 29  Women 400 Yard IM
===============================================================================
    Name                    Year School                           Finals        
===============================================================================
  1 Boehme, Callie            11 DPU                            4:51.44  
  2 Lugg, Angela              FR Titans-IL                      5:01.47  
  3 Tabler, Sally             11 DPU                            5:07.07  
  4 Zerbini, Gina             12 DPU                            5:10.29  
  5 Baumann, Lindsey          12 DPU                           x5:14.42  
  6 Holisky, Eleanor          SO Titans-IL                      5:23.93  
  7 Gradle, Amy               FR Titans-IL                      5:29.37  
  8 Fredrickson, Kirsten      FR Titans-IL                     x5:45.91  
 
Event 31  Women 200 Yard Freestyle Relay
===============================================================================
    School                                                        Finals        
===============================================================================
  1 Illinois Wesleyan University-IL  'A'                        1:44.58  
     1) Lugg, Angela FR                 2) Anderson, Lia                  
     3) Hansen, Lauren SO               4) Tomazin, Angie SR              
  2 DePauw University  'A'                                      1:45.46  
     1) Medlock, Elizabeth 11           2) Enix, Cassie 10                
     3) Johnson, Danielle 10            4) Wheaton, Rachel 12             
  3 DePauw University  'B'                                      1:50.59  
     1) Riggs, Lindsay 10               2) Morrison, Katie 12             
     3) McVey, Claire 12                4) Baker, Catie 12                
  4 Illinois Wesleyan University-IL  'B'                        1:52.76  
     1) Fitton, Jennifer SO             2) Bittner, Melissa FR            
     3) Hertel, Sydney FR               4) Holisky, Eleanor SO            
  5 DePauw University  'C'                                     x2:03.59  
     1) Bemendefer, Joan 12             2) Cox, Janet 09                  
     3) Long, Sabrina 10                4) Francissen, Taryn 12           
 
Back