Guy Morrison Walker -- 1890 Graduate and DePauw Legend -- Featured in Newspaper
January 25, 2009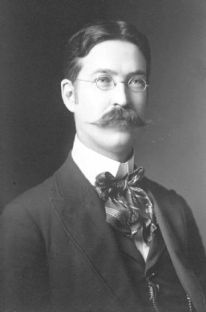 January 25, 2009, Greencastle, Ind. — "During 1909 -- 100 years ago -- former Terre Haute resident Guy Morrison Walker made national headlines," notes a feature in today's Terre Haute Tribune-Star. "An 1890 graduate of DePauw University, Walker was on President William Howard Taft's short list of candidates to succeed William Woodville Rockhill as U.S. Minister to China, a position then titled, 'Envoy Extraordinary and Minister Plenipotentiary.'"
Walker was born in 1870, the newspaper notes. "In 1873, while still an infant, Guy went to Beijing with his parents, spending about ten years. During those years, he used both Chinese and English as primary languages. He returned to the U.S. to attend DePauw, where his father had earned a degree in 1868. He maintained his interest in Chinese politics and economics and put his expertise to good use. Not only was Guy an outstanding student and campus leader at the Greencastle college but he helped organize, and was captain of, the 1889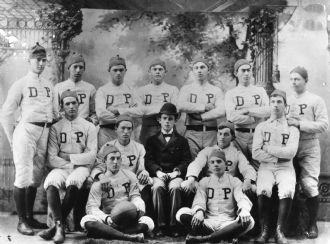 DePauw football team, arguably the school's first." (at right: 1889 DePauw football team; Walker is seated in the second row, second from the left)
The lengthy piece recounts Walker's many accomplishments, among them, "Walker wrote the poem, The Spirit of Old DePauw and endowed and presented a memorial plaque honoring Joseph Carhart, professor of elocution and oratory. Carhart brought national fame to the university between 1885 and 1920 by producing numerous state and regional oratorical contest winners.
Guy presented the college library with several rare books, including several valuable reference about the Orient."
Guy Morrison Walker passed away in 1945, but his legacy continues. Each year, DePauw honors the senior who has contributed the most to the University during his or her four years with the Walker Cup, which was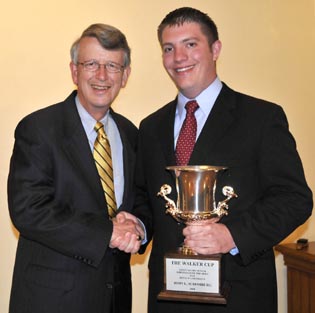 given to the University by Mr. Walker in 1926. And the Tribune-Star points out, "Less than a year ago, his namesake. grandson, Guy Morrison 'Binx' Walker, died in Ocean Springs, Miss. Binx Walker's obituary contended that he was a member of the sixth generation of his family to attend DePauw. Loyalty to the family alma mater was a part of the Walkers DNA." (at left: President Emeritus Robert G. Bottoms with 2008 Walker Cup recipient John Schomburg '08)
Access the article by Mike McCormick at the newspaper's Web site.
The papers of Guy Morrison Walker are housed at the DePauw University Archives.
Back