Hendrix Ends Tigers' Streak at Eight
January 25, 2009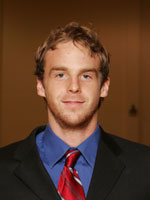 January 25, 2009, Conway, Ark. — Host Hendrix scored 13 straight points in a four-minute stretch of the first half to take the lead for good in a 78-67 Southern Collegiate Athletic Conference win over DePauw.
DePauw dropped to 13-5 overall and 6-2 in the SCAC as its eight-game win streak came to an end. The Warriors improved to 12-6 overall and 5-4 in the SCAC.
The Tigers led 10-9 in the opening four minutes of the contest, but the Warriors rattled off 13 straight to take a 22-10 lead. Hendrix led 37-25 at the break.
Hendrix extended the margin to 16 at 53-37 on Cal Rose's three with 12:18 left. The Tigers rallied with the next eight capped by Joe Bergfeld's three-point play which made it 53-45 with 10:27 remaining.
Ammon Martin hit a three and scored on a drive to push the lead back to 13 before the Tigers' Mike Moore was whistled for two technical fouls and ejected with 8:44 left. Rose hit all four free throws and then knocked down a jumper 40 seconds later to give the Warriors their biggest lead of the game at 64-45.
DePauw was able to trim the margin to seven at 69-62 on Tom Callen's three with 1:05 left, but the hosts nailed eight free throws in the final minute and sealed the win.
Callen led DePauw with 19 points and eight rebounds, while Moore added 16 points. Steve Lemasters and Joe Bergfeld each scored 10 and Tony James equaled a career high with eight assists.
Nick Heathscott led five Hendrix double-figure scorers with 16, while Rose finished with 14. Andrew King added 13 points and a game-high nine rebounds, while David Foley and Ryan Wible each added 10 points.
DePauw returns to action on Friday, January 30, when it hosts Trinity at 6 p.m.
Back