Tigers Extend Win Streak to 12 with Win at Hendrix
January 25, 2009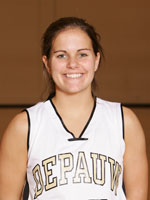 January 25, 2009, Conway, Ark. — DePauw outscored Hendrix 12-1 in the final 2:21 and picked up its 12th straight win with an 80-71 Southern Collegiate Athletic Conference win over the Warriors.
The Tigers improved to 15-3 overall and 7-1 in the SCAC, while Hendrix dropped to 10-8 overall and 3-6 in the conference.
DePauw led by as many as 10 in the first half and led 39-34 at the break. They extended the margin back to 10 at 44-34 on Cassie Pruzin's three-pointer with 18:52 left. Hendrix responded with a 7-0 run to make it 44-41.
Hendrix later took a 60-59 lead on Jamie Sterrenberg's drive with 6:58 remaining which capped a 6-0 stretch. The lead changed hands five more times before Christina Byler knocked in a three with 2:50 left, giving the Warriors a 70-68 advantage.
Lauren Goff (pictured) responded with a three before Hendrix's Chelsey White hit one-of-two free throws to tie the game at 71-71 with 1:49 remaining. Pruzin gave DePauw a 72-71 lead with a free throw at the 1:30 mark and White was whistled for a technical foul with 1:13 left. Goff made one of the two charity tosses to push the lead to two.
Emily Marshall's bucket with 49 seconds left gave the Tigers a 75-71 lead. The Warriors missed on the other end DePauw hit 5-of-6 from the line in the final 36 seconds to put the game away.
Goff paced the Tigers with a career-high 19, while Aldrich and Pruzin followed with 14 each. Katie Mathews and Marshall each added 11 and Brooke Osborne scored 10 as six Tigers reached double figures. Marshall grabbed a game-high nine rebounds as DePauw held a 36-25 edge on the boards. Pruzin totaled five assists.
White led Hendrix with 17 followed by Samantha Clark with 14 and Byler with 12. Byler hauled down six boards in the loss and Amanda Morris dished out six assists.
The Tigers return to action on Friday, January 30, when they host Trinity at 8 p.m.
Back