Local 'Dancing with the Stars' Fundraiser to Feature Nick Mourouzis; Jinsie Scott Bingham '56 to Judge
January 27, 2009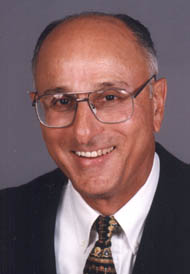 January 27, 2009, Greencastle, Ind. — Retired DePauw football coach Nick Mourouzis is among the 12 individuals who've agreed to participate the first "Dancing with the Putnam County Stars." Set for April 4, the event will be a fundraiser for the Putnam County Youth Development Commission.
Jinsie Scott Bingham, a member of the University's Class of 1956, will serve as one of the program's judges.
"The local event will closely follow the premise of the popular television show Dancing with the Stars, which airs on ABC," writes the Banner-Graphic's Jamie Barrand. "Each contestant will be paired with a local dance professional to perform a simple routine that will last a maximum of two minutes. The dancer who gets the most points -- a combination of money raised before and during the event and the judges' scores -- will be the Dancing with the Putnam County Stars champion."
"The buzz is really starting to build," says Linda Merkel, executive director of the Youth Development Commission. "I'm really excited and so proud to be a part of this. Not only is it for a great cause, it's also going to be a lot of fun."
More details can be found at the newspaper's Web site.
Nick Mourouzis, professor emeritus of kinesiology at DePauw, guided the football Tigers to 138 victories, the most in University history, before retiring after the 2003 season. In 1996, he founded Chi Alpha Sigma, the nation's first collegiate scholar-athlete honor society. Learn more about the coach in this recent story, and access his 2004 commencement address at DePauw by clicking here.
In September, Jinsie Bingham donated a one-of-a-kind, historic map to the University's Archives (seen in photo above right). Read more here.
Back