John Tedstrom '84 New President of Global Business Coalition on HIV/AIDS, Tuberculosis and Malaria
January 27, 2009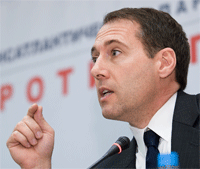 January 27, 2009, Greencastle, Ind. — John E. Tedstrom, a 1984 graduate of DePauw University, is the new president and chief executive officer of the Global Business Coalition on HIV/AIDS, Tuberculosis and Malaria (GBC), it was announced today. He succeeds Richard Holbrooke, who left GBC to serve in the Obama Administration as envoy to Afghanistan and Pakistan. Tedstrom had been serving as the Coalition's executive director.
"John is determined that 2009 be a year of strong success for GBC despite continuing economic challenges," says Sir Mark Moody-Stuart, chairman of the GBC board of directors. "Since arriving at GBC over two years ago, John has led the organization to new heights and has worked effectively with the board, our members, and our partners. Our relationships with the Global Fund and other important international organizations have grown. Our new programs create high-impact, cost-effective opportunities for business to do good."
Adds Holbrooke, "Ending the disastrous effects of AIDS, tuberculosis, and malaria is within our grasp but we have to do far more, far better. John knows how to make sure that business assets and abilities are leveraged as effectively as possible. He knows how to
ensure impact. And he's a trusted partner for both business and the public health community at large. John's appointment to head GBC was a wise move by the board."

"The work of our Coalition is vital and GBC will press forward with an aggressive agenda to create a better life for those in need," asserts Tedstrom, who joined the Coalition in 2006. "I am both deeply humbled and motivated by the confidence that our board has expressed in me. I am proud to serve with my wonderful team and am grateful to my friend, Richard Holbrooke, for his leadership and support."
Read more by clicking here and access this previous story.
Back