Campus Digs Out from 10" of Snow
January 28, 2009
January 28, 2009, Greencastle, Ind. — About ten inches of snow covers the ground in Greencastle, which remains under a Winter Storm Warning until noon today. Classes at DePauw University are taking place as scheduled.
The snow began yesterday and became heavy overnight. The precipitation has now ended, and the forecast calls for a high temperature of 22 degrees today. There is a 30% chance of more snow tomorrow and Friday. A slight warm up may come Saturday, with high temperatures expected to near the freezing mark.
"Campus and community crews have done a terrific job of clearing the walkways and streets," says Doug Cox, the University's emergency management coordinator and director of the DePauw Nature Park. "The snow is not blowing and drifting and walkways are not icing up, so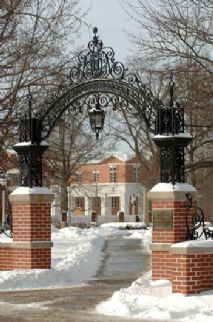 we're fortunate in that regard. We still ask people to exercise caution as they make their way across campus."
Those traveling today by car are advised to use extreme caution. Indiana State Police report that even major roadways are snow covered, slick and hazardous. Highway traffic is moving very slowly, and troopers in the Indianapolis district have responded to 237 crashes and slide-offs since Tuesday afternoon. Fortunately, no injuries have been reported.
Indianapolis received 12.4" of snow. This marks the area's largest snowstorm since 1996 and the accumulation since Monday marks the ninth-heaviest snowfall on record, according to the National Weather Service.
Central Indiana averages 9.3 inches of snowfall for all of January. Since Monday, Indianapolis has received 10.7 inches of snow.
Get the latest on the weather forecast by clicking here.
Back