Carly Snipes '05 Honored by American College of Emergency Physicians
January 28, 2009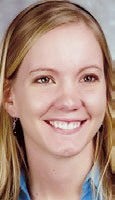 January 28, 2009, Greencastle, Ind. — Carly D. Snipes, a 2005 graduate of DePauw University and now a fourth-year student at the Indiana University School of Medicine, is a recipient of the Medical Student Professionalism and Service Award from the American College of Emergency Physicians. Snipes is among 31 students nationwide to receive the honor, given to recognize students who "excel in compassionate care of patients, professional behavior, and service to the community."
ACEP is a professional society representing emergency medicine physicians.
Upon graduating from IU Med School in May, Snipes -- who
majored in biochemistry and computer science at DePauw -- plans to "pursue a three-year residency in emergency medicine," reports Indiana's Carroll County Comet. "She has interviewed at nearly a dozen residency programs throughout the country, and will be matched with a program in March."
Access the item at the newspaper's Web site.
Back