Financial Advisers and 1981 Graduates Eric & Sherri Hynden Featured in Florida Weekly
January 29, 2009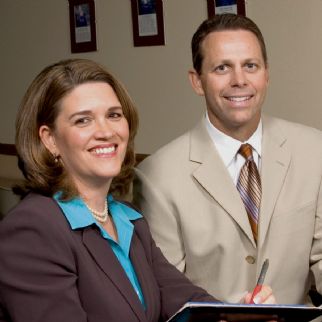 January 29, 2009, Greencastle, Ind. — "At a time when bank failures, brokerage meltdowns, wildly fluctuating markets and alleged rogue investment gurus like Bernard Madoff dominate the financial landscape, Eric and Sherri Hynden, the soft-spoken founders of the Fort Myers-based Flint Financial Group, quietly go about the business of helping to secure the financial futures of their clients," begins a feature in Florida Weekly. "It hasn't always been easy going head-to-head with huge New York-based firms, they concede, but 25 years of steady performance and a solid base of clients have helped to level the playing field." The Hyndens are both 1981 graduates of DePauw University.
"It really is about customer service," says Sherri (Bowman) Hynden. "A live person answers our phone. We return all calls within 24 hours, and if we can't get the information for you within that time, we'll let you know why."
Eric Hynden adds, "We survive on clients being
happy and referring people to us."
The text notes, "The Hyndens, both 49, met while students at DePauw University in Greencastle, Ind. They graduated in 1981, he with a degree in math and she as an economics major. Both hold Chartered Financial Consultants degrees from The American College. They began their financial careers at Merrill Lynch in Fort Myers, and left to form Hynden and Hynden Independent Financial Consultants (Flint's predecessor) in 1983."
Flint Financial has approximately 300 clients in 28 states.
You'll find the complete article at the weekly publication's Web site.
Back