Prindle Institute for Ethics Publishes Volume Featuring Works of Students and Visiting Scholars
January 29, 2009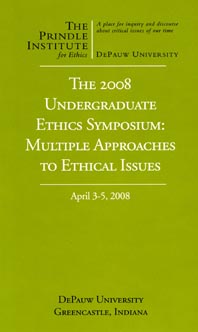 January 29, 2009, Greencastle, Ind. — The first publication by DePauw's Janet Prindle Institute for Ethics -- a journal compiling work presented at the University's first annual Undergraduate Ethics Symposium in Spring 2008 -- is now available. The 191-page book contains the best student work as well as a piece from each of the symposium's leaders: Janet Neipris, professor of dramatic writing at New York University ("The Moral Responsibility of the Artist"); Thomas P. Kasulis, professor of comparative studies at Ohio State University ("Responsiveness and Responsibility: Bringing a Japanese Perspective to Ethical Discussions"); and Noah Lemos, professor of philosophy at The College of William and Mary ("Value and Variety").
Also included in the text is the symposium's keynote address by John K. Roth, who served as DePauw's Frederick Distinguished Visiting Professor of Ethics ("The Failure(s) of Ethics").
The preface is authored by Robert G. Bottoms, director of the Prindle Institute and president emeritus of the University.
DePauw students whose works are included in the journal are: Lauren Lefebvre, Emily McGill, Ross O'Connor, Whitney Long, Beth Towle, Justin Sikes, Kelly Gagnon, Ka'Lena Cuevas and Justin Bull.
Students from across the United States were invited to submit papers to the symposium, which took place April 3-5, 2008 at the Prindle Institute. The 26 undergraduates who were selected to participate in the symposium includes twelve from DePauw. The other students came from Lewis University, Claremont-McKenna, Calvin College, University of North Florida, University of Tennessee, Azusu Pacific, St. Edward's and Biola.
A copy of the journal may be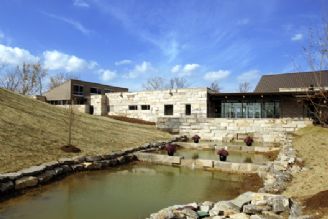 obtained by e-mailing Linda Clute.
Learn more about the 2008 symposium, "Multiple Approaches to Ethical Issues," in this previous story.
Submissions for the 2009 Undergraduate Ethics Symposium are being accepted through February 1. Learn more here.
Located within the DePauw University Nature Park, the Janet Prindle Institute for Ethics was dedicated on October 26, 2007. It was designed as a place for inquiry and discourse about critical issues of our time. Visit the Institute online by clicking here.
Back