Women's Basketball Team Returns to National Polls, Preps for 2 Weekend SCAC Games
January 29, 2009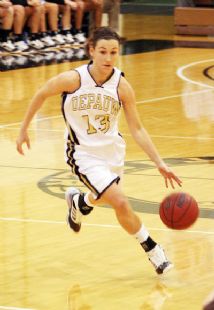 January 29, 2009, Greencastle, Ind. — "The DePauw women's basketball team heads into this weekend's SCAC games with a little more confidence than last week," begins a story in today's Banner-Graphic. "After knocking off Hendrix 80-71, the Lady Tigers have moved back into the Top 25 in the D3hoops.com poll at No. 23 and No. 24 in the USA Today/ESPN Division III top 25 coaches poll. It couldn't come a better time as DePauw takes on Trinity University Friday night at 6 p.m. in the Lilly Center and then takes on Southwestern Sunday at 1 p.m."
Dan Shelton points out that the women's team has won 12 in a row and stands 7-1 in the Southern Collegiate Athletic Conference record. "Right now DePauw, Trinity, and Oglethorpe are in a three-way tie for the best record in the SCAC."
Another article in the Greencastle newspaper previews the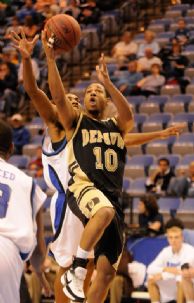 men's team's Friday 6 p.m. matchup with #8 Trinity, and Sunday's noon contest versus Southwestern. "After going 8-1 over its last nine games, the DePauw men's basketball team will look to get back on track," reports Caine Gardner, noting that the Tigers' 8-game winning streak was snapped by Hendrix last weekend in Arkansas, 78-67. The men's team is 13-5 overall and 6-2 in the SCAC.
This weekend's games can be heard live on student radio station WGRE (91.5 FM or via this link).
For the latest on DePauw's 21 intercollegiate athletic teams, click here.
Back