DePauw Readies for Focus the Nation 2009
January 30, 2009
This February, DePauw University will participate in its second annual Focus the Nation, a week of events intended to increase campus awareness of climate change and sustainability issues.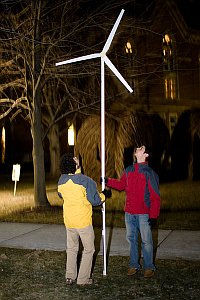 The events begin on Tuesday, Feb. 3 with a national webcast entitled "The First 100 Days," and continue until Feb. 10, when the DePauw Environmental Policy Project (DEPP) students will present the outcome of their environmental lobbying efforts at the Indiana State Legislature.
Tiffany L. Briery '08 coordinated a Winter Term group that helped to plan the upcoming event schedule. Briery returned to DePauw as a fifth-year Sustainability Intern after last year's Focus the Nation changed her post-graduation plans.
"Right now, many colleges are producing graduates who will go about their lives unaware of the seriousness of climate issues," says Briery. "I wanted to come back because I thought that it would be a tragedy if students at DePauw went through their time here without realizing how important the issue is. I never considered myself to be a leader before, but last year's event motivated me to do more."
Briery and Winter Term students organized a diverse selection of events in hopes that this year's Focus the Nation will appeal to a broad audience. On the evening of Feb. 4, Ed Newman will present a workshop for RecycleMania, "a friendly competition and benchmarking tool for college and university recycling programs to promote waste reduction activities to their campus communities." Started in 2001 between Ohio University and Miami University, RecycleMania has grown to include over 200 colleges nationwide.
Following Newman's workshop, Chad
Pregracke, founder of Living Lands and Waters, will address an audience on his book, From the Bottom Up: One Man's Crusade to Clean America's Rivers. Pregracke founded the Illinois-based organization in 1998 to deal with the growing problem of trash in the Mississippi River, on which he grew up playing and working. Since its founding, Living Lands and Waters has grown into a fleet of barges and workboats, and has organized thousands of volunteers. In 2002, Pregracke received the Jefferson Award for Public Service along with Rudy Giuliani, Bill and Melinda Gates, and Lilly Tartikoff.
On Thursday, Feb. 5, two expositions will be held in the Union Building. Starting at noon, the Campus Sustainability Expo will showcase the University's commitment to environmental issues on campus and beyond. That evening, the Greencastle Community Sustainability Expo will host business and community leaders who share a vision for a sustainable future.
Also on Feb. 5, DePauw will mark a second year of participation in the National Teach-In, a day of hour-long talks on sustainability facilitated by members of the University community. Students, staff and faculty members will speak on topics such as "Is God Green?," a panel discussion including President Emeritus Robert G. Bottoms, director of the Janet Prindle Institute for Ethics, and "Envisioning the 'Green' Economy" with Kerry E. Pannell, associate professor of economics and management.
The National Teach-In was established in 2008 as a way to create a lasting dialogue on sustainability and climate change. After only a year, there are already signs on the DePauw campus that the teach-in is having an impact.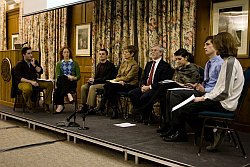 Last September, following a campaign by a group of Focus the Nation participants, DePauw University President Brian Casey signed the American College and University Presidents Climate Commitment (ACUPCC), making sustainability a formally supported institutional value.
Professor of Sociology and Anthropology Thomas Hall facilitated one of last year's sessions and is returning again for this year's teach-in. Hall's experience at the first teach-in has shaped the way he conducts his courses.
"We've talked about sustainability in a number of my courses, but I've started to move these issues more into the foreground than they previously were," says Hall. "I am teaching a course on globalization and one of my assignments requires students to attend the teach-in. I suggested to the students that if they find topics there that they want to discuss in class, I can adjust the course readings to fit their interests. One of the long-term positives that have come out of the Teach-In is that professors will respond to the concerns of their students by including sustainability in the coursework."
More information about Focus the Nation events can be found on its Web site, including a full schedule. For inquiries, e-mail sustain@depauw.edu.
Photos in the story were taken by Alex Turco '10. More of his photographs can be found online.
Back