World Premiere of Prof. James Beckel's Symphony for Band Set for February 15
February 3, 2009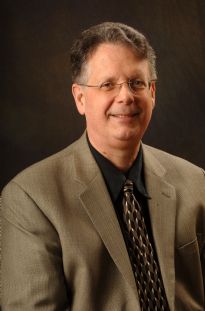 February 3, 2009, Greencastle, Ind. — The world premiere of Symphony for Band by James Beckel, adjunct professor of music at DePauw University, will take place on February 15 in Indianapolis. The Butler University Wind Ensemble will perform the piece as part of its 2 p.m. concert at Clowes Memorial Hall. The performance will be presented free of charge.
Symphony for Band, was commissioned by a consortium of 14 college and high school bands, including the DePauw University Band (pictured below).
"It is always a privilege and an honor to help to bring a new work of art into existence," says Professor Robert Grechesky, director of bands at Butler. "It is a special honor when the composer is a colleague like Jim Beckel, whom I have known for more than 35 years. The Butler University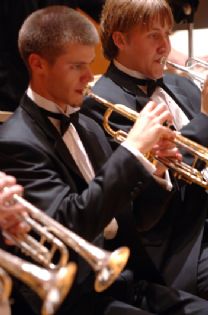 Wind Ensemble is proud to be able to present the first performance of a piece that we hope will become a staple of the band repertoire."
Grechesky said the composition, based on John Donne's poem Death Be Not Proud, represents the journey through life that we all must travel. "It is a wonderful piece, extremely well crafted, that Beckel himself says could be subtitled 'Passages,'" says the Butler professor. "From the buoyant exuberance of youth to the intensity of dealing with one's demons, and finally conquering death, the music reflects the entire spectrum of emotions and feelings."
Read more here.
Professor Beckel has been principal trombonist with the Indianapolis Symphony Orchestra since 1969. Read more about him by clicking here.
Back