Tigers Extend Streak to 13 with Win over Trinity; Marshall Grabs 20 Boards
January 30, 2009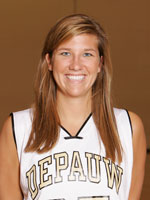 January 30, 2009, Greencastle, Ind. — Emily Marshall (pictured) notched a double-double of 10 points and a career-high 20 rebounds as 23rd ranked DePauw extended its win streak to 13 with a 77-57 Southern Collegiate Athletic Conference win over Trinity.
The Tigers improved to 16-3 overall and 8-1 in the SCAC, while Trinity dropped to 13-5 overall and 7-2 in the conference. DePauw also extended its home win streak to 36 and its SCAC home win string to 44 and the win was the Tigers' 53rd straight regular season victory at the Neal Fieldhouse.
DePauw took a 37-30 lead into the intermission and pushed it to as many as 12 in the opening minutes of the second half. Trinity was within 10 at 59-49 after Kelsey Goodell's layup, but a pair of Andrea Travelstead buckets started a 13-2 run which put the game away.
Cassie Pruzin led DePauw with 15 points and six assists, while Brianna Frigerio scored a career-high 11. In addition to Marshall's 10, Travelstead also added 10. Marshall's 20 boards matched the second-best single-game performance in school history and were one shy of Brenda Simmons' school-record 21 set in 1993. It also marked just the 10th 20-rebound game in SCAC history.
Ali Marzella and Danielle Hubenak each scored 13 for Trinity, while Abby Dietert added 12. Lindsey Hovland and Alexandra Blake each hauled down nine rebounds. Trinity played without leading scorer and rebounder, Krista Prato Matthews.
The Tigers shot 39.1 percent from the floor to Trinity's 35.0 and DePauw knocked down 8-of-21 from beyond the arc. DePauw, the Division III leader in rebound margin, held a 55-31 advantage on the boards and grabbed 27 on the offensive glass.
DePauw hosts Southwestern on Sunday at 2 p.m.
Back