Men and Women Both Defeat Trinity in Key SCAC Hoops Battles
January 31, 2009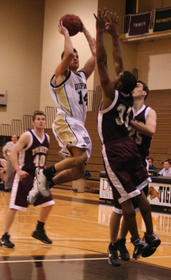 January 31, 2009, Greencastle, Ind. — "DePauw (14-5, 7-2 Southern Collegiate Athletic Conference) snapped a 15-game winning streak by Trinity (16-2, 8-1)," 61-54, reports this morning's San Antonio Express-News. Of the women's game, the newspaper notes, "Defending SCAC champion DePauw (16-3, 8-1) snapped a two game winning streak by Trinity (13-5, 7-2)," 77-57. (at left: sophomore Drew Wills hits a key shot late in the men's game/courtesy: Banner-Graphic)
Access the item here.
In the men's game, Mike Moore lit up the Neal Fieldhouse scoreboard for 19 points, and two other Tigers scored in double figures. The visitors entered the contest ranked #8 in NCAA Division III.
Emily Marshall (pictured at right) led the #23-ranked DePauw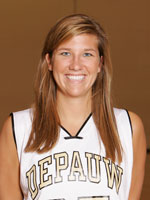 women's team with a double-double, logging 10 points and a career-high 20 rebounds. It was the team's thirteenth triumph in a row.
Summaries of the men's and women's games can also be found in today's Banner-Graphic.
For comprehensive coverage, visit the official athletics page of the Tigers.
Back